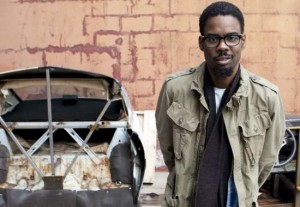 "Women need food, water and compliments.
That's right.
And an occasional pair of shoes. "
~ Chris Rock
~~~~~~~~~~~~~~~~~
It is Day 11 of NaBloPoMo for July and I am finally getting around to writing about one of the prompts for this month's theme "kidding around:"
Tell us about your favorite comedian.
There are other prompts that I have found inspiring and am working on for future posts, even though I missed blogging about some of them on their suggested dates.
~~~~~~~~~~~~~~~~~
I was first introduced to Chris Rock, along with many others, when he joined the cast of Saturday Night Live (SNL) in 1990. But I really grew to appreciate much of his humor and perspective on life through watching his HBO comedy specials that my husband Bob was a big fan of when we met, as seniors in college at the University of Illinois.
I realize that Chris's sets are not always very clean and politically correct, which makes some people uncomfortable. But I also respect how he "tells it like it is" about so many hot topics and issues in our world today.
Just a heads up that because I will be quoting Chris a lot in this post, if you find this kind of humor offensive, you may want to click away. In some cases I cleaned the language up a bit replacing his exact words with alternatives in parenthesis.
I like how Chris is able to make his audience laugh out loud while at the same time really think about and take to heart what he is saying, at least that has been my experience with his brand of comedy.
My kids are also fans of Chris Rock, as he is the voice of Marty (a humorous and eccentric zebra) in the Madagascar animated movies.
~~~~~~~~~~~~~~~~~
Bob and I have this thing we do where we quote favorite lines from movies and TV shows when it seems to fit in to our daily life and what we are talking about. The longer we are together we don't always even have to say the quotes out loud to each other anymore, we can just make eye contact and smile or wink and the other person knows which quote has come to mind.
For instance, there was an old Everybody Loves Raymond episode where Ray says to his wife Debra, who is a stay at home mom (like me), "What do you do all day?!" and then immediately responds with "I'm sorry!" when he sees the expression on her face, before she even gets to reply.
Bob and I find ourselves doing this with a lot of our favorite jokes and quotes from Chris Rock's stand up comedy routines.
One of my all-time favorites was the inspiration for the title of this post and the quote that I led off with about "what women need" from his Bigger and Blacker HBO special (1999).
Another is this part of the same comedy special:
Fellas, you want your woman to be happy?

All you got to say is, "How was your day?

"Honey, how was your day? "Know why?

'Cause "How was your day?" is a minute conversation to a woman.

And as a man, you don't really gotta talk. You gotta just act like you're talking.

"Get out of here. Go on! l don't believe it.

"You don't say! Really? Get out of here!

"Go on. l don't believe it.

You don't say? Get out of here.

"l told you that bitch crazy!"

You gotta throw in, "l told you that bitch crazy."

You know why?

'Cause every woman's got another woman at her job that she can't stand.

Women, y'all exaggerate everything.

You turn it into some Dynasty shit, like:"She's trying to destroy me!"

What the f*ck are you talking about?

You wrap up bags at J.C. Penney's!

What's she doing, ripping up your paper?
Every once in a while when I am venting to Bob about someone in my life that I find frustrating to interact with, Bob will throw in "I told you that bitch is crazy" and it always makes me laugh.
Another of our favorite Chris Rock's bits is this one from Bring the Pain (HBO, 1996):
"Whenever Colin Powell is on the news, white people give him the same compliments:

'How do you feel about Colin Powell?'

'He speaks so well! He's so well spoken.

I mean he really speaks so well!'

Like that's a compliment, sh*t.

'He speaks so well' is not a compliment, okay?

'He speaks so well' is some sh*t you say about retarded people that can talk.

What do you mean he speaks so well? He's a fuc*ing educated man!

How the fu*k you expect him to sound?

'He speaks so well.' What are you talking about?

What voice were you expecting to come out of his mouth?

'Imma drop me a bomb today', 'I be Pwez o dent!'.""
The last bit, also from Chris Rock's Bring the Pain (HBO, 1996) special, that Bob and I like to laugh about and say to each other is this:
"You know the worst thing about (some people)?

(They) always want credit for some shit they supposed to do.

(They) will brag about some shit a normal man just does.

(They) will say some shit like, "I take care of my kids."

You're supposed to!

What kind of ignorant shit is that?

"I ain't never been to jail!"

What do you want, a cookie?!

You're not supposed to go to jail!"
Photo Credit: ChrisRock.com