It's Day 28 of NaBloPoMo for July and as I shared in my introductory post, one of the reasons I decided to participate this month was because the awesome prompts. In part because of it being a holiday week, I didn't get around to writing about one of the prompts (for July 3) that I wanted/had intended to. So I am finally writing about that prompt today:
Talk about the best prank you ever pulled.
It was the summer of 1989. I had graduated eighth grade and was going the same YMCA residential summer camp in Michigan, called Camp Echo, that I attended to for two weeks in previous summers. But this time I was going for an entire month (two sessions).
The first session I lived with my fellow campers and our two counselors at a place off site of the main camp called "Outpost." We lived in platform tents and cooked all of our meals over a campfire. We rarely interacted with the campers and staff in "main camp."
One night we were sitting around our campfire before going to bed and started talking about how it might be fun to play a prank on main camp. We brainstormed various fun and creative ideas. I don't recall who camp up with the one we finally settled on, but I do remember being so excited for us to execute our plan.
We waited until we knew that all the campers and most of the counselors were in their cabins and hopefully asleep for the night.
Then we quietly hiked to main camp and headed for the dining hall. From there we quickly started moving all the tables and chairs out of the hall and onto the soccer field, while making as little noise as possible.
It was hard not to laugh out loud imagining what the main campers and staff would be waking up to the next morning, but we tried our best to stay focused.
Though it never actually happened, we had discussed ahead of time what we would do if a camper were to wander out in the night to go to the bathroom while we were in the process of moving everything. Since the cabins didn't have toilets in them, the campers shared community bathrooms that were nicknamed KYBOs (which stood for "keep your bowels open").
If we had an encountered a sleepy camper heading to the bathroom and they were to ask us what we were doing, the response was to be something to the effect of, "go back to sleep, you are dreaming."
In retrospect I doubt they would have bought that, but it made sense to us at the time.
I don't remember how long it took us to get all the tables and chairs out of the dining hall and onto the soccer field in the middle of main camp, but when we were done we were very pleased with ourselves. We couldn't wait to hear about the campers' and staffs' reaction when they woke up the next morning and headed out to have breakfast "in the raw" (which is how we liked to refer to them eating outside in nature versus their usual dining hall experience)!
We snuck back to Outpost quietly that night and went to bed, though it was hard to sleep thinking about our awesome prank and anticipating how things would play out the next morning.
Later the next day one of our counselors hiked back to main camp to get some food and supplies that we needed. They reported back hearing that everyone at main camp had been very surprised when they discovered what had happened overnight and that most of the campers and staff got a kick out of our prank.
Our plan and our hope was that when they saw the tables and chairs outside that they would eat breakfast there, before moving them back into the dining hall and that is exactly what they did!
At some point along the way we came up with a slogan to describe our prank on main camp, which eventually we not only fessed up to doing, but made the plaque below to hang in the dining hall in honor and memory of the experience. It is somewhat hard to read, so in case you are unable to make it out, it says:
"We cleared the hall for breakfast in the raw!"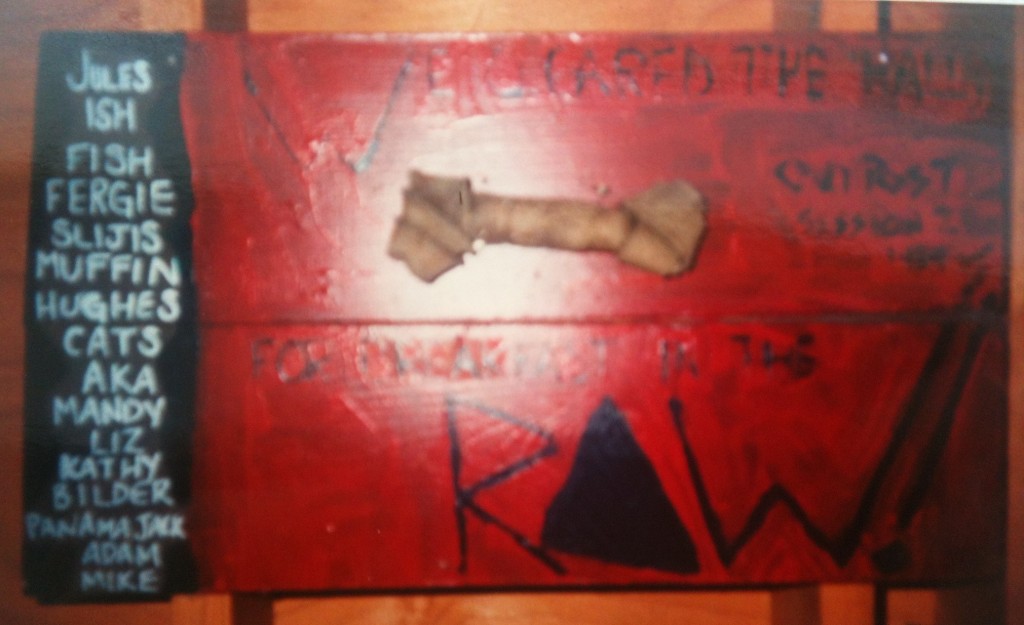 It's been years since I have been back to visit Camp Echo, but the last time I was there I took this picture of our plaque, with all of our names on it (14 of us campers and 2 counselors). My name is fifth from the bottom. A lot of the kids at Outpost that session were given nicknames by the counselors, but they never came up with one for me that stuck, so we just put "Kathy" on the plaque.
At some point during that session, I don't recall if it was pre or post-prank, we came up with a motto for our group. It went like this:
"When we're hungry we eat.
When we're tired we sleep.
When we're hot, we're hot.
When it rains, we're wet.
We're Outpost and we're gettin' raw!"
Unlike main camp, which followed a specific schedule that was pretty much the same everyday, at Outpost we prided ourselves on getting to do things when and how we wanted and in a more natural way, "in the raw." For some reason as a symbol of our "rawness" we took to each of us wearing dog bones on ropes around our necks. Go figure?!
I believe that one of our counselors bought the dog bones for us on one of their nights off from camp and that is why there is a dog bone in the middle of our plaque (in case you were wondering).
There is (or at least was back then) a tradition at camp of making commemorative plaques for special events that were then hung in the dining hall. I used to love to walk around and look at them, many of which had been made decades before.
I remember being so proud after we made our's and got to hang it there. One of the first things I would do from then on when I returned to camp and entered the dining hall was to look for and find our plaque.
I wonder if it is still there?
I will have to ask someone who still goes back there to visit or contact the current camp staff. I know that these days some of my old friends attend family camp there. I believe that there are one or two family camp sessions held towards the end of each summer for a week and over Labor Day weekend.
Maybe someday I will bring my family there and/or send our kids to experience some of the fun and happy memories I have of summer days at Camp Echo.
In the meantime, it is fun and nostalgic for me to reflect on those summer days and special times, including, the best prank ever, when we "cleared the hall."
What the best prank you ever pulled or witnessed?