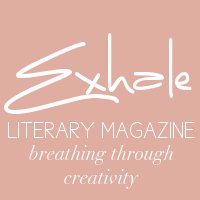 It's hard to believe that it was only a little over a year ago that I submitted my first book review for consideration for Exhale Literary Magazine's Spring 2011 issue and soon after volunteered to fill the open PR/Social Media position on their staff.
From there I also became a contributing editor doing quarterly book reviews for the literary magazine and eventually also got involved with other areas, such as assisting with the production of our most recent Spring 2012 issue, redesigning our website and creating a logo and badges for blogs, Facebook and Twitter earlier this year.
So a few months ago when we started having some major technical difficulties with our website, it was disheartening after all the time and effort our team had given "breathing new life" into Exhale.
However, our amazing editor Kristin had the ingenuity and the vision to reach out to Franchesca of Small Bird Studios, who is her friend and editor of the awesome new online magazine Still Standing (geared towards those who have experienced loss and/or infertility) to discuss the possibility of us merging/becoming sister magazines.
It seemed like a win-win for everyone involved and Fran and Kristin quickly got to work on making the move happen.
Last month on June 7th, just over a month after Still Standing launched on May 6th, I am happy to share that we re-launched Exhale Literary Magazine as part of the Still Standing family.
As a member of the Exhale team, I am so excited about this new relationship and opportunity for Exhale and Still Standing, especially all of our readers and contributors for both magazines.
Still Standing's team has done an incredible job attracting readers and contributors, as well as developing a site that serves as a wonderful resource and support for those living through loss and infertility.
We hope that adding Exhale's literary components will be another great resource for those "embracing life after loss and infertility."
A few housekeeping changes, for those who have followed and read Exhale in the past…
New Website: Exhale Literary Magazine
New Facebook: Still Standing Magazine (we now share a page with our sister magazine)
Same Twitter: @ExhaleMagazine
Finally, we are currently accepting submission for our late Summer issue with the theme of Change until July 15th. For more information click here.