It's the last Monday of the month which means its time to share our Perfect Moments from July with Lori from Write Mind Open Heart.
~~~~~~~~~~~~~~~~~~~~~~~~~~
Last Friday Bob, Sean, Abby and I took our annual trip to Six Flags Great America. Abby is now tall enough go on more of the rides, including some that we can now ride on as a family.
One of the first rides that we went on all together is called Roaring Rapids. It is sort of like going white water rafting with a group of twelve people on a big circular raft. The raft moves through the water, bumps up against things, goes under waterfalls and at various moments waves of water rush in to drench those who are aboard.
I knew that Sean would love it, but wasn't sure what Abby might think of the experience.
Though Abby seemed surprised at first when she started to get wet on the ride, after she got used to it, she smiled and giggled the rest of the way, as did we all. By the end of the ride we were all soaking wet and Abby asked immediately if we could do it again!
We chose not to, so we could move on and try another ride, but we were glad that she enjoyed her first experience with us on Roaring Rapids.
Being able to go on this ride together as a family and seeing the expressions on my children's faces, not to mention my husband's and the other people who shared the raft with us, was truly a perfect moment for me.
That moment was followed by many more throughout our day at the amusement park and we look forward to returning there next summer for another family adventure.
Here are some pictures of Bob, Sean, Abby and me after getting soaked on Roaring Rapids: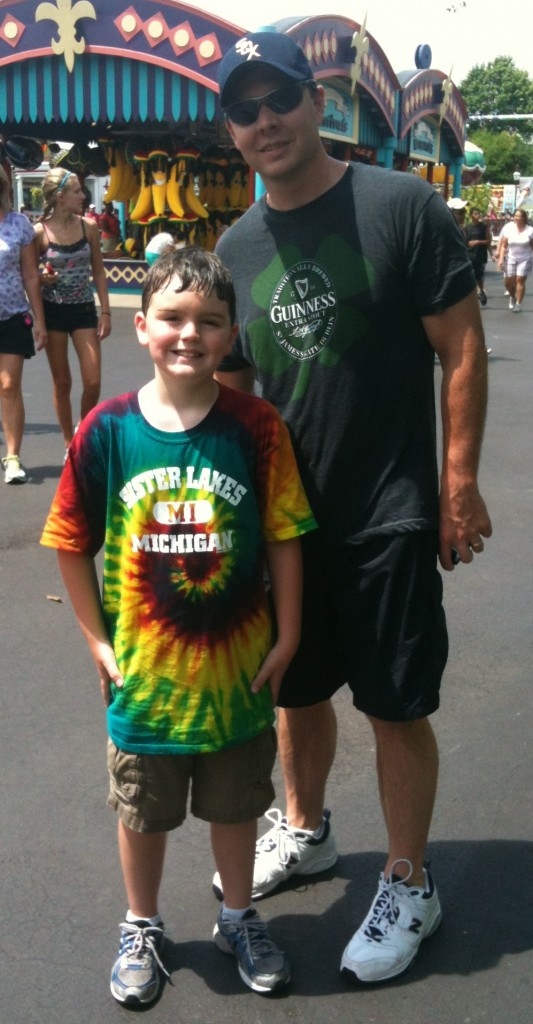 ~~~~~~~~~~~~~~~~~~~~~~~~~~
Lori from Write Mind Open Heart says that "Perfect Moment Monday is about noticing a perfect moment rather than creating one. Perfect moments can be momentous or ordinary or somewhere in between." I love the idea of being mindful of and blogging about perfect moments. Over the years I have often used my blog more to write about things I am struggling with and though I know that is valid and important for me at times, I appreciate the idea of being intentional about also sharing the simple and very special moments in our lives. Many thanks to Lori for this wonderful opportunity to focus on what is right in our life, instead of what is wrong. 
Click here to read about and comment on more Perfect Moments (there are links to others' posts at the bottom of Lori's blog entry) and/or add a link to one of your own. Thank you for reading. I hope that you have a wonderful week and that you are aware of, as well as able to notice, many perfect moments in your own lives.