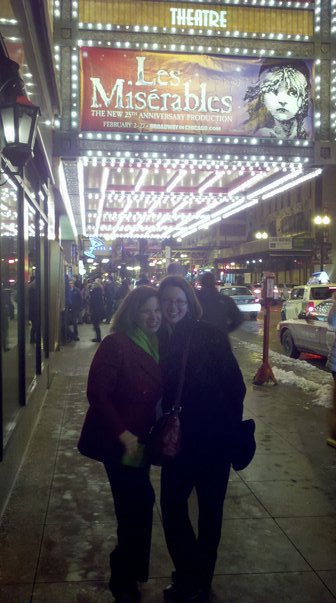 There's nothing like it, at least for me.
I try to get my fix a few times a year and if I could afford it would get season tickets to Steppenwolf and Broadway in Chicago.
My family has had a tradition, for as long as I can remember, of going to see one show together each year here in Chicago.
I have written posts in the past about local theater productions I have seen and referenced some of my favorite musicals as well.
In recent years we have started bringing Sean to see plays and musicals here in Chicago, especially because he has shown interest in performing on stage. He is even enrolled in a summer theater camp at our local arts center that will culminate in two weekend performances of Rugrats: The Musical later this month.
Earlier today my dad emailed me a link to this article announcing the return of Rent to Off-Broadway! Though I doubt I can fit it in to my already jam-packed BlogHer `12 schedule, it would be awesome to have the chance to see it again.
Note/Update: After I wrote this post I realized that somehow I came across an old email from my dad that I thought was written and sent today, but that he actually sent me last August (2011). After he pointed that out I realized that the piece (I linked to about Rent) and the news both seemed vaguely familiar… Oops!
Rent is one of my all-time favorite musicals, second only to Les Miserables (my sister Meg and me are pictured here before seeing it again with our family last year). I have seen both many times and when they return to Chicago, I do my best to get tickets.
I am excited that later this month Sean and I will get to see a new high-tech production of Dreamworks How to Train Your Dragon Live Spectacular at the United Center. You can read more about it and even get a discount code in this post on my review blog, One of a Kind Reviews.
What are some of your favorite plays or musicals? Have you seen any of them more than once?
If you could star or have a supporting role in any live theater production, what would it be?