When I was growing up my maternal grandmother, mother, sister and I had a running discourse that went like this, one of us would ask another one,
"How does it feel to be beautiful?"
The person on the receiving end of the question would answer,
"You oughtta know!"
I always loved the message that it sent the women in our family, about the importance of feeling comfortable in our own skin and knowing that our loved ones thought we were beautiful.
~~~~~~~~~~~~~~~~~~~~~~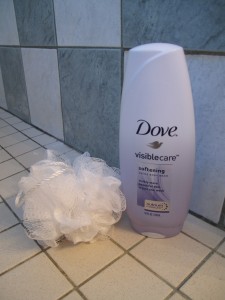 Recently, I had the opportunity to try a new product that promises "visibly more beautiful skin in just one week," Dove® VisibleCare Body Wash.
I was excited when it arrived in the mail, as I had forgotten that I had signed up hoping to get to use it and write a review about my experience (my first as a BlogHer paid reviewer).
One of my simple pleasures in life is taking long and relaxing showers, including loading my loofah sponge with body wash, lathering it up, taking in the fragrance and letting my body bask in the soothing feeling as I get clean.
One of the first things I noticed about Dove® VisibleCare Body Wash was how much I like the way it smells and the second was truly how soft my legs and the rest of body feels after I use it. My husband even noticed and commented on how soft my legs feel.
This is a revolutionary line of premium body wash from Dove and it contains the highest concentration of Nutrium Moisture technology across the Dove product line.
Dove® VisibleCare is available in three variants:
*New* Toning Crème Body Wash — promotes skin's elasticity and strength
Renewing Crème Body Wash — nourishes and replenishes skin
Softening Crème Body Wash — softens skin and dry spots
I used the Dove® VisibleCare Softening Crème Body Wash (pictured in my shower above) this time and have really enjoyed it. I look forward to trying the Renewing and Toning versions as well in the future.
I recommend Dove® VisibleCare Body Wash and believe that it will help you to feel even more beautiful in your own skin after you use it.
Visit Dove's website to learn more about this skin care line and others, as well as Dove® VisibleCare® to get a coupon for $1 off!
What do you do to pamper yourself and to feel comfortable and beautiful in your own skin?
Have you tried any of the three Dove® VisibleCare Body Washes? If so, which one(s)?
If not, which of the three most interests you?
~~~~~~~~~~~~~~~~~~~~~~
You can also enter to win one of two $500 Spafinder gift certificates!
NO PURCHASE NECESSARY
COMMENTS TO THIS POST ARE NOT SWEEPSTAKES ENTRIES. PLEASE SEE BELOW FOR ENTRY METHODS FOR THIS SWEEPSTAKES.
You may receive (2) total entries by selecting from the following entry methods:
a) Follow this link, and provide your email address and your response to the Promotion prompt
b) Tweet (public message) about this promotion; including exactly the following unique term in your tweet message: "#SweepstakesEntry"; and then visit this link to provide your email address and the URL to that Tweet.
c) Blog about this promotion, including a disclosure that you are receiving a sweepstakes entry in exchange for writing the blog post, and then visit this link to provide your email address and the URL to that post.
This giveaway is open to US Residents age 18 or older. Winners will be selected via random draw, and will be notified by e-mail. Winners will have 72 hours to claim the prize, or an alternative winner will be selected.
The Official Rules are available here.
This sweepstakes runs from 7/18/2012 – 8/22/2012.
Be sure to visit the Dove® VisibleCare™ Crème Body Wash brand page on BlogHer.com where you can read other bloggers' reviews and find more chances to win!
~~~~~~~~~~~~~~~~~~~~~~
Disclaimer: I received free product and other compensation to use Dove® VisibleCare Softening Crème Body Wash, write and share this review, but the words and opinions in this post are my own.