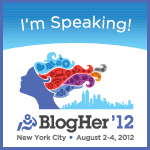 Have you ever thought that?
I know that many of us who have blogged for years, especially those who have been able to resolve some or all the reasons we began blogging, have wondered what to do when we reach that point.
Though I do not feel that way now, I certainly have at times since I began blogging about my experience with secondary infertility, pregnancy loss and Assisted Reproductive Technology as "Three of a Kind Working on a Full House…" in April 2007.
As a veteran blogger, I know so many people who struggle with this question and thus I am excited to share some news with you (if you haven't heard already).
Lori Lavender Luz, Kir Piccini and I will be speaking together on a panel at BlogHer`12 and Melissa Ford will moderate our discussion!
Our topic is "My Blog No Longer Fits Me: ALI Bloggers Talk Blogging After Life Change."
We hope that our session will be a draw for our community and others. We can see the need for it from the conversation we've had in recent months in our ALI Community about how people continue to fit into a community that they sort of "graduate" from.
I have wanted to share this news formally here with you for a while, but the time got away from me. I also thought you might like to know how our session/panel came to be.
Last year I decided that I wanted to submit a session proposal for BlogHer's 2012 Annual Conference. I approached Kristin Binder (in part because we work together on Exhale Literary Magazine) to work together on the proposal for BlogHer and we were looking to see who else might be interested, as well as brainstorm ideas. We had an idea, but needed some help to focus our vision.
We brainstormed with some fellow bloggers, including Lori Lavender Luz, through which Lori gave some great input that helped to clarify the direction we wanted to go with the idea. From there Kristin and I began to work on our proposal and asked Lori to join us in developing it. Lori wrote a great first draft of our description for our session and came up with our working title. We needed a moderator and thought Melissa Ford would be awesome, especially knowing that she has served in that role at BlogHer in the past.
Not long after our session proposal was chosen by BlogHer and we were invited to present at BlogHer `12, Kristin realized that she has an important family commitment/scheduling conflict that precludes her from participating after all. She and we are all very disappointed that she will not be able to be part of our panel, as originally planned and conceived. We will miss Kristin, but understand and respect her decision to put her family first in this situation and we hope that BlogHer will have the opportunity and benefit for her to speak/present at a future conference.
We asked Kir Piccini to join our panel in Kristin's place and are excited to have her on board!  When we found out about Kristin's predicament we wanted to present BlogHer with an alternative to take her place (someone we knew well and thought would be a good fit for our panel). There are so many wonderful people we could have asked, but in the end we agreed that Kir would be the best fit and an awesome addition to our panel in August!
We wish we could have included more of our fellow ALI Bloggers in the panel, but realistically we could not. We are very excited about this opportunity and really appreciate your support.
Please feel free to share with us about what you did to continue blogging if and when you achieved the personal goals that your blog was set up around.
Also, if you have any questions that you would like for our panel to try to answer or other things related to this topic that you would like for us to cover, please let us know.
You can do so in the comment section of this post or email me at Kathy@bereavedandblessed.com.
We welcome your input and suggestions and as we continue to develop our session.
If you are attending BlogHer in August we would love to have you attend and participate in our session on Saturday, August 4 from 3:00 – 4:15 p.m. If you are not going to be there, you should be able to follow along via the live blogging and see a video and/or read the transcript afterwards.
Thanks again for your support!