It's the fourth Monday of the month which means its time to share our Perfect Moments from May with Lori from Write Mind Open Heart.
~~~~~~~~~~~~~~~~~~~~~~~~~~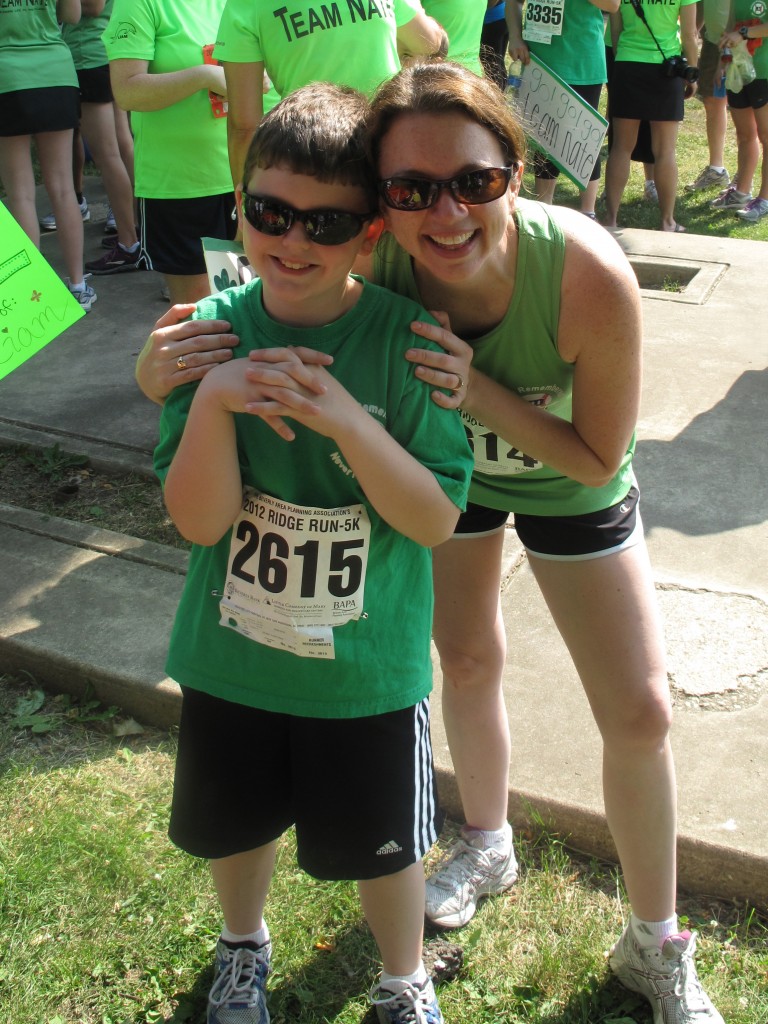 Last year on Memorial Day, after running in my 4th Ridge Run 5K Race in our Beverly neighborhood here in Chicago, I shared the story here of how I learned to run back in 2006, which included participating in my first Ridge Run 5K that May. I also wrote about how my experience with running has evolved over the years, including training with a local group of women called "Team Nate."
Team Nate runs in honor and memory of one of our member's eleven-year-old son Nate, who died five years ago this July and never got the chance to run in our neighborhood's annual race on Memorial Day, as well as other children who left this world too soon (including another member's four-year-old son Liam and my newborn daughter Molly). That post was also a Perfect Moment Monday blog entry, which I called One Shining Moment.
It's always incredible for me to reflect on how far we can come in a year's time. Last year my son Sean watched the race and cheered for me from the sidelines with his dad/my husband Bob, his sister/my daughter Abby and his maternal grandparents/my parents. I am not sure if it ever crossed Sean or my mind that this year he might experience the Ridge Run 5K from the perspective of a participant. But, that is exactly what happened.
About two months ago I felt that Sean was not getting enough physical activity. His school only offers gym classes once or twice a week. In addition to that he participates in an after-school yoga program one day a week and goes to Tae Kwon Do classes three to four times per week. Though he does love to ride his bike and play outside, he doesn't have nearly as many opportunities to do so as he or we (as his parents) would like for many reasons.
So as I began training again with Team Nate in March, it dawned on me that it might be nice for me to try to teach Sean to run. I thought it would be a great way to work in more regular exercise for both of us and to build up his endurance. He was skeptical and hesitant at first, reminding me regularly that he was doing this "for me." But I encouraged him to stick with it and see what happens. I told Sean that I thought it would be fun for us to work towards participating in our neighborhood's Memorial Day Ridge Run 5K race and after that if he didn't feel like running was his thing, he/we could stop doing so together.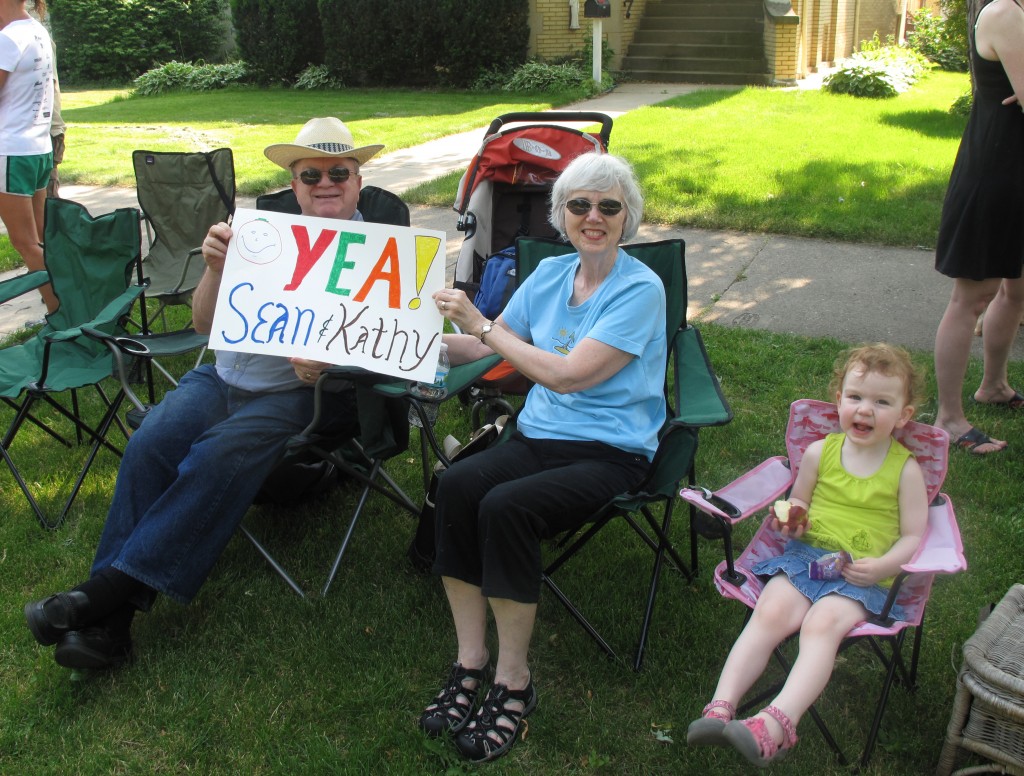 We followed Hal Higdon's 5K Training Program for Novices. We ran three times per week, usually on Tuesday and Thursday afternoons (often with Abby coming along for the ride in our jogging stroller) and Saturday mornings. We began running/walking 1.5 miles. We would run for a minute and then walk for a minute. Each week we would add another .25 miles to our "long runs" on Tuesdays and Saturdays. Usually on Thursdays we would do a bit shorter run, as suggested in Hidgon's training program. Over time we worked up to running for two minutes and walking for a minute, then three minutes/one minute and eventually four minutes/one minute.
It was awesome to witness my son's evolution as he got more comfortable with and confident about running. He went from frequently asking me "now? now?" wanting to know how much longer until we would get to walk again to getting so wrapped up in our conversations (which quickly became the highlight of our runs for both of us) that he cared less about when we would walk next. That said, early on I accepted that it was highly unlikely we would be running the entire 5K race this year. I believed that Sean wouldn't be ready yet, so that we would continue our running/walking ratio and at best continue to increase the minutes we ran incrementally.
Then last week on Tuesday, as we prepared to head out for the first of our last three pre-race training runs, Sean and I discussed how we might try to pace ourselves that day. That previous Saturday we had done four minutes/one minute and it had gone really well. So I suggested that maybe this time we go for fives minutes/one minute. Sean pushed back and said that he wasn't sure that he felt ready to do that yet. I tried to be understanding, but also told him that I really believed that he could do this. It was a cooler day here in Chicago and I said that I thought the weather conditions would help our cause if we wanted to do it.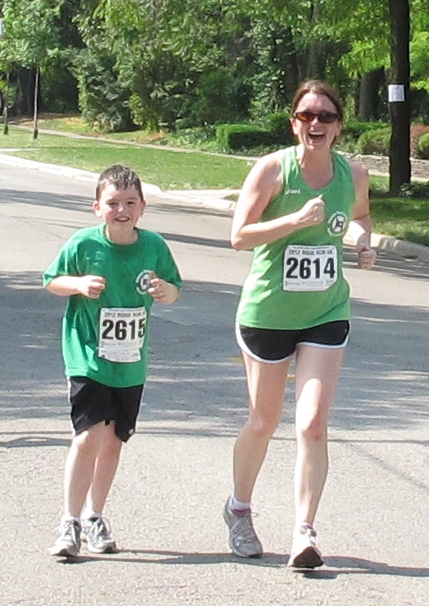 I was shocked and amazed by what happened next. Sean told me that he was open to trying to run longer this time, but asked that we see how it goes. We decided that after running for four minutes that I would ask him how he was doing and if he thought he could keep going without walking, then we would do so. He suggested that I would continue to check in with him periodically and when he felt like he needed to walk that he would tell me and that might set our pace/run/walk ratio for the day. I agreed and was excited to see how our training would go that day.
I was blown away when Sean and I ended up running the entire time!
The further we got without stopping to walk, the more motivated Sean got to keep running. It was truly incredible to witness his transformation leading up to our run that day and even throughout that particular outing.
I was and am so unbelievably proud of my son!
I also realized that if the weather was really hot today (as it ended up being) that we might or might not run the whole time and that would be okay. But now we/he knew that he could do it and what an awesome feeling that is!
Last Thursday the weather had gotten considerably hotter again and I warned Sean that it might not be as easy for him to run the whole time, but he was determined to try to go for it again. Once again he set his mind to run the whole 3.1 mile route and we did it!
We ran a shorter 2 mile route on Saturday morning without stopping to walk and after that I was convinced that Sean would be able to run the whole race today. I assured him that with the heat that it would be okay if we decided at some point to walk, but that I thought we should try to run the whole time and focus on pacing ourselves.
This morning Sean and I were both excited and a bit nervous that race day was finally here. We couldn't wait to get out there and use everything we learned over the past two months training together to run and finish his first 5K together.
It was a very different experience for me to run this race today alongside my son as his mother, coach, cheerleader and companion. The Ridge Run this year was not for or about me, it was all about helping my son to realize what he is capable of when he works hard and sets his mind to do something. My goal was to help Sean maintain a steady pace, to take water at the pit stops, stay cool by running through the many sprinklers that people who live on the route were kind enough to set out for us and most of all have fun.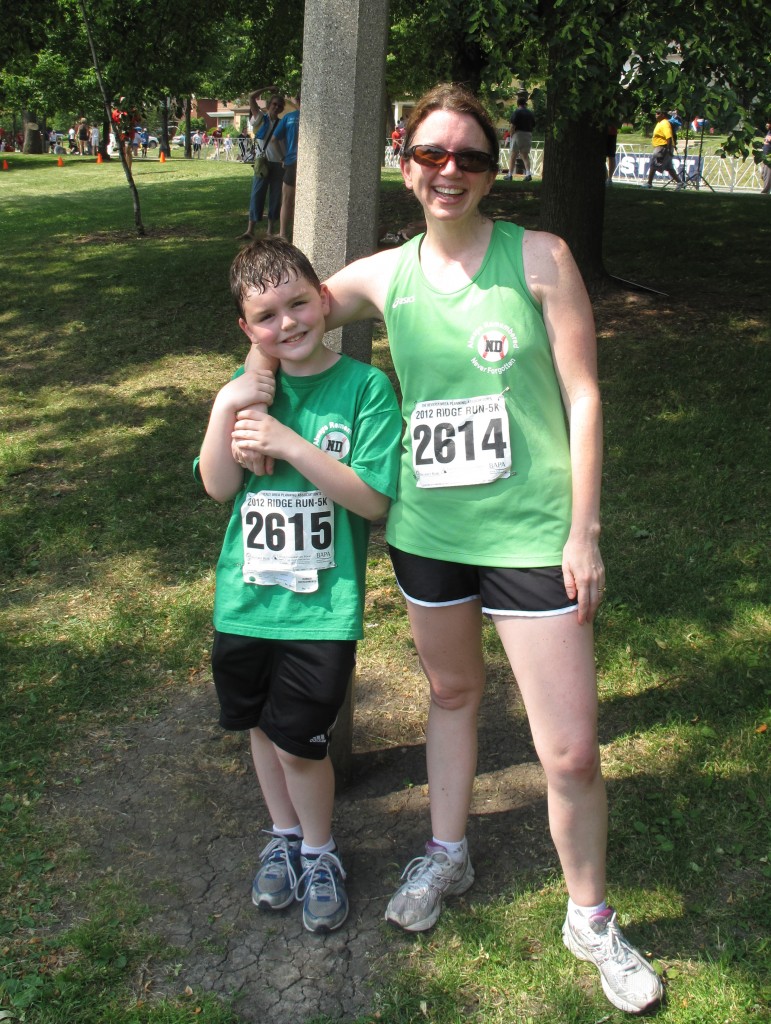 There were fleeting moments when I had to stifle my natural instinct to run faster, when I let my mind wander and imagine how fast I might have been able to finish the race this year, were I running on my own and for myself. Would I have been able to beat my own personal record (PR) that I set just last year in this race on Memorial Day?
However, I kept coming back to what a wonderful experience it was to be running with my eight year old son in his first 5K and tried to slow down and soak up every moment and memory of the race with Sean.
The heat was intense today and our pace was slow, but Sean and I never stopped running for the entire 3.1 miles.
We finished in a respectable time of 47:16 (a 15:13 pace).
Our time was 15 minutes slower than I ran this race last year in similar weather conditions, but that was more than okay with me, because last year I didn't get to run 3.1 with my son.
All day long (before, during and after the race) so many friends, family members and strangers let Sean know how proud of him they were to see that he was doing this. At times he seemed uncomfortable with the amount of praise being showered on him, but I could tell that deep down he appreciated their support and encouragement.
At about mile two on the race route we ran near a middle-aged man who seemed really happy to see Sean running the 5K and began chatting with us. The kind man told Sean that the most important thing he (and all of us running in the race) did today was to get up, out of bed and show up to do this. He said that it didn't matter how fast he ran or what time we finished the race, he emphasized how important it was that Sean was attempting this at all. I really appreciate his perspective.
Before the race began Sean and I shared some special moments with fellow Team Nate members, including Nate's and Liam's mothers. These two amazing women told Sean how proud of them they were that he was doing this today and let me know how happy they were that Sean and I were getting to experience this together. I can only imagine how bittersweet our interactions were for my friends, but as always their kindness, in the midst of their grief and healing, moves and inspires me as a fellow bereaved mother. Though it has been five years since they lost their sons and four years since I lost my baby girl Molly, they continue to model/help me to learn how to live without our children who have died, while still honoring their lives and memories.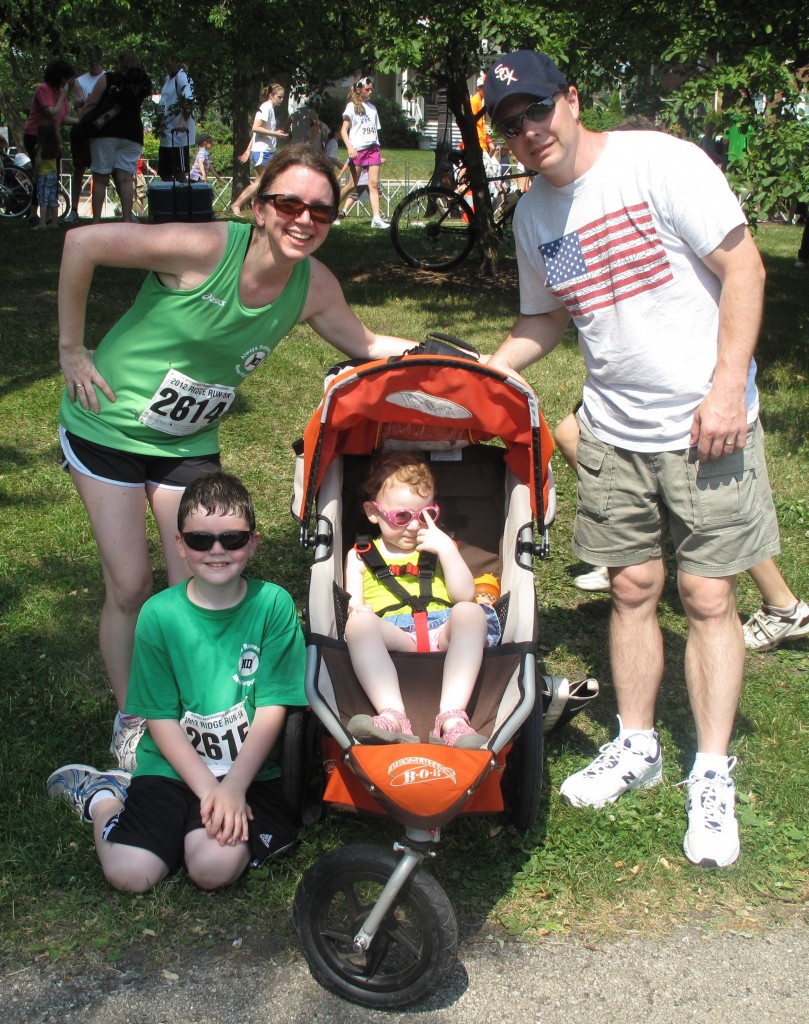 I also had a brief, quiet and special moment with a butterfly after the race. Bob had taken the kids over to a play area to climb and ride down on an inflatable slide. I was hanging around waiting to see the final race results, to get Sean and my official times. After I found out what time we finished in and what our average pace was throughout the race, I walked over to meet up with my family. I was walking across a baseball diamond there at Ridge Park when I noticed a little butterfly flying near me. The butterfly circled the area I was moving through and from time to time would land on the dirt in the baseball diamond before taking off again. I couldn't help but think of our baby girl Molly and see this visit from a butterfly after Sean and I finished the 5K race today as a little sign from my daughter and his sister in Heaven that she was with us in spirit today.
Thank you for reading about my running 3.1 with my son today. It was definitely filled with perfect moments and as my mom often refers to times like this, it was a "peak life experience" for me that I will never forget!
~~~~~~~~~~~~~~~~~~~~~~~~~~
Lori from Write Mind Open Heart says that "Perfect Moment Monday is about noticing a perfect moment rather than creating one. Perfect moments can be momentous or ordinary or somewhere in between." I love the idea of being mindful of and blogging about perfect moments. Over the years I have often used my blog more to write about things I am struggling with and though I know that is valid and important for me at times, I appreciate the idea of being intentional about also sharing the simple and very special moments in our lives. Many thanks to Lori for this wonderful opportunity to focus on what is right in our life, instead of what is wrong. 
Click here to read about and comment on more Perfect Moments (there are links to others' posts at the bottom of Lori's blog entry) and/or add a link to one of your own.
Thank you for reading. I hope that you have a wonderful week and that you are aware of, as well as able to notice, many perfect moments in your own lives.