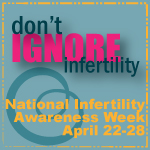 It's Day 5 of National Infertility Awareness Week (NIAW). It took me awhile to figure out how I wanted to "fill in the blank" in effort to support and participate in Resolve's NIAW Bloggers Unite Challenge. The theme this year, as you may already know, is:  "Don't ignore…"
Though I appreciate the intention behind this theme, I wasn't feeling motivated earlier this week and was having trouble finding the inspiration to write something I thought was worthy to share.
Mel's thoughts in her post Every Week is Infertility Awareness Week resonate with me, as I believe that I do a pretty good job spreading the word and trying to raise awareness about the struggles and realities associated with infertility and loss in my day-to-day life, especially through my blog here, my Facebook page and my involvement with Exhale Literary Magazine.
Then I read Lisa's post Don't Ignore the Life without Baby Option, that Pamela called my attention to.
I love Lisa's take on "Don't Ignore…" as it relates to those who ultimately decide to live childfree after journeying through infertility and/or loss. She talks about how the "choice" that many make to live without their own children is often overlooked and people who take this road less traveled need love, care and attention too. Those living childfree after dealing with infertility also appreciate being a part of a community that accepts them for who they are and respect the tough decisions they have made a long the way.
Reading Lisa's post led me to realize that I could write my NIAW post from the angle of someone who has also not had the most "typical" infertility experience (not that anyone's experience can or should classified as typical).
As someone who struggled through secondary infertility and loss for over five years, I felt extremely grateful for my living child (our now eight year old son) during that time. However, I also had a hard time, feeling like some people in our life didn't respect or appreciate our "wanting more" and insinuated or even outright said that we should just be thankful for what we already had. I strongly believe that we had the right to feel such disappointment and sadness when being able to have another child wasn't going as we hoped, wished, prayed and planned that it could or would. I know first hand that it is possible to feel very blessed for what you have in your life (such as a living child) and still feel sadness and yearn for what you want so much and have not been able to bring into your life (including more living children) at the same time.
As I shared in my post Busting a Myth About Secondary Infertility during NIAW last year, secondary infertility is real and for many it is as difficult and painful to experience as those who are diagnosed with primary infertility. I am not trying to make this into the "Pain Olympics". However, I do think that we secondary infertiles also deserve to be given love, care and attention when we are trying to build and expand our families, as well as feel the support of a community that gets what we are going through and wants to walk with us on our journeys trying to expand our families.
Secondary infertility brings its own set of unique challenges to women and couples who want to have more children after bringing home at least one healthy living child. It is these unique challenges that I think are often misunderstood and thus lead to many of us being, or at least feeling, ignored.
We love and adore the child(ren) we are caring for and raising, but that doesn't take away from our yearning to have another son or daughter and give our living child(ren) one or more siblings.
How we cope with secondary infertility is as unique as each of us are, like those dealing with any type of infertility. However, we all appreciate knowing that others care and will be there for us if and when we feel comfortable sharing about our journeys trying to build and/or expand our families.
During this National Infertility Awareness Week I encourage you to think about the people in your life who are facing secondary infertility (either openly or privately) and consider how you can show them you care and respect their wishes to try to have more children. If these people have talked with you about their struggles trying to expand their families, you might choose to do this more directly and if not, you may want to be more subtle.
Infertility is a very lonely place to be, but living through it can be more bearable when we don't feel ignored, whether we are dealing with primary infertility, secondary infertility, living childfree or any of the many other "categories" that infertiles may find themselves in while trying to build or expand our families.
A huge thank you to Resolve: The National Infertility Association and all of you that work to help raise awareness and keep the conversation going about infertility! It certainly makes it harder for people to ignore.
If you want to find out more about infertility and/or learn more about National Infertility Awareness Week (NIAW), please check out these links: