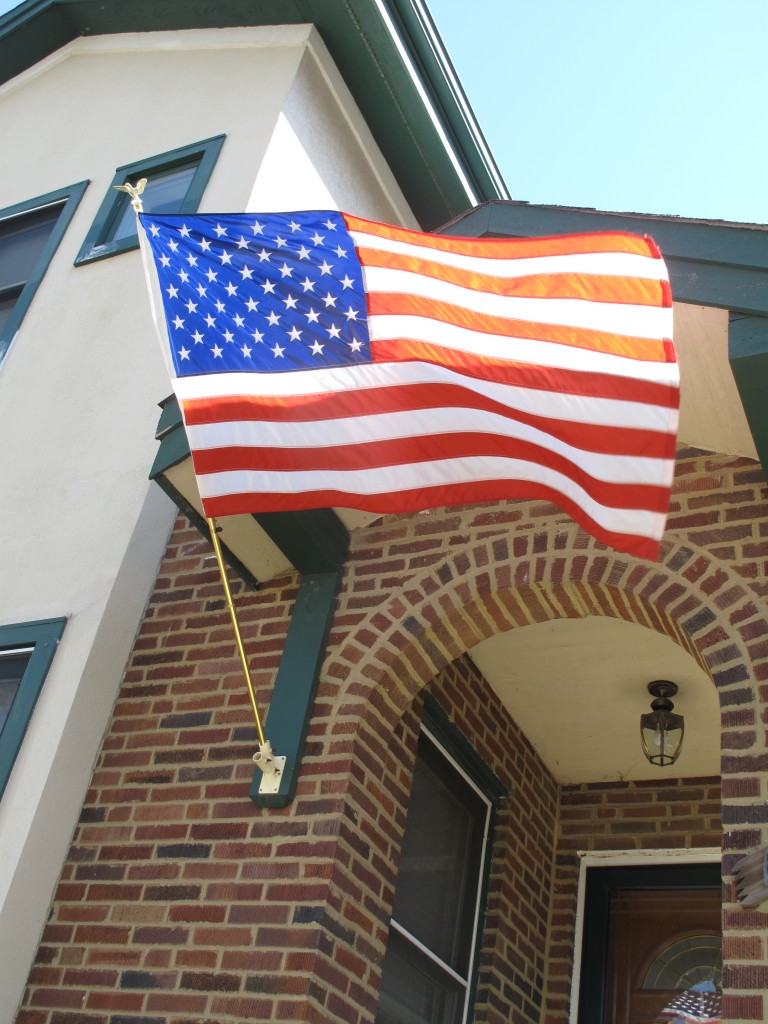 Last week I didn't know what that meant.
Today I do, along with many others in our Beverly neighborhood who are honoring the life and memory of Marine Corporal Conner Lowry.
Semper Fi, short for Semper Fidelis, is latin for Always Faithful.
The Marine Corps uses it as their motto and their inspiration as they serve and protect our country.
I did not know Conner Lowry.
But as a member of the community where he grew up and as a mother, my heart aches for his family and friends who are grieving his death.
Conner died last week serving our country in Afghanistan.
He graduated from one of our local Catholic High Schools, Brother Rice, in 2006.
From what I have heard Conner was a kind and faithful son, brother, friend and Marine.
He will be buried tomorrow in the same cemetery that our baby girl Molly was laid to rest four years ago this April.
Over the past few days I heard about the plans for Conner's wake and funeral at the parish (St. John Fisher) in our neighborhood that his family is a part of. I learned that there would be a motorcade this morning from Midway Airport where his body would be arriving and then returning home from. Other community members, especially other mothers I know, encouraged those of us who were able to come and support Conner's loved ones by standing along the route of the motorcade, holding American flags and showing them how much we care and respect the sacrifice that their son and his family made for our country.
As a bereaved parent, I know how very much it means to feel such love and support, even from strangers, as we mourn the death of our children.
Yesterday I decided that Abby and I would go to a place on the motorcade route this morning to join others in supporting and paying our respects to Conner's family and friends. We bought some American flags at Walgreen's to bring with us. We had been told to try to arrive by 8:45 a.m. So we left our house a little before 8:30 a.m. to make our way toward 103rd Street.
It is a beautiful and sunny, but fairly cold, day here in Chicago. So I made sure that Abby was bundled up well in her stroller and I also wore layers to try to keep warm. My plan was for us to find a spot on the route that didn't have a lot of people already, so we could fill in one of the gaps. It took us about 15 – 20 minutes to get there.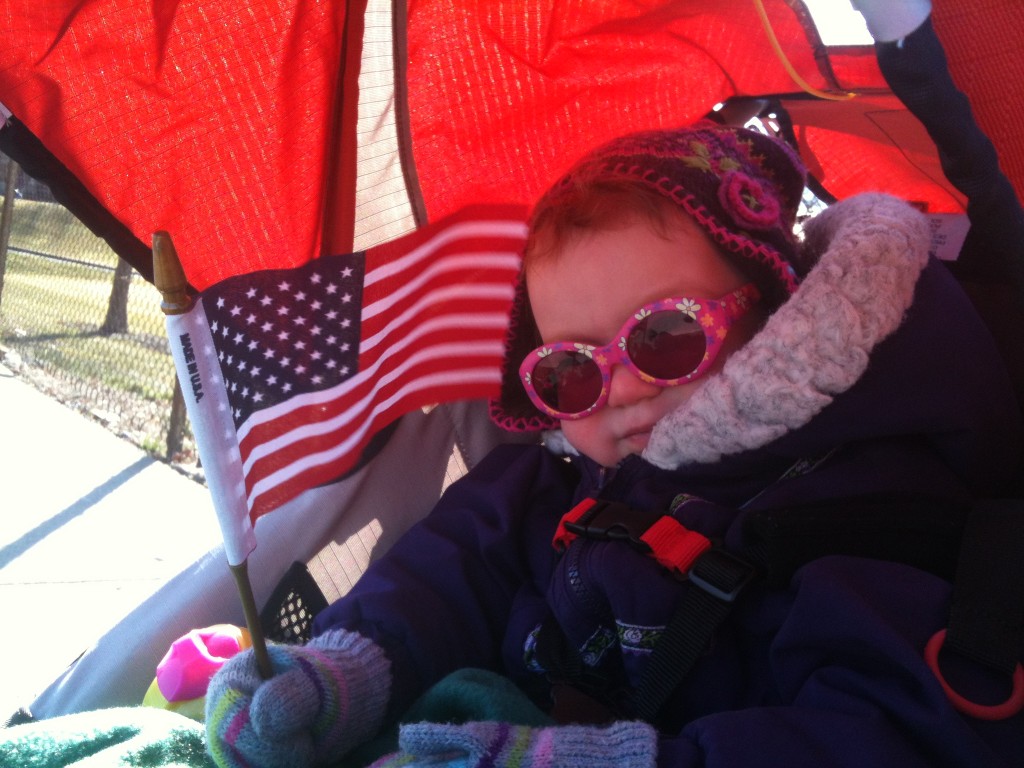 We arrived right about 8:45 a.m. and found a spot in front of Ridge Country Club's Golf Course on 103rd Street. For awhile there were not that many people around us, but we saw some gather in the distance in all directions and across the street from where we were.
A woman walked by soon after we got settled into our spot, while Abby ate a snack, and let us know that the motorcade was about 25 minutes away. She shared that they had stopped at Brother Rice High School for Taps to be played.
As time passed, more people started arriving and filling in more gaps along the route. Directly across the street from us two Chicago Fire Department trucks and an ambulance pulled up. The fireman proceeded to get out and put on their full firefighting uniforms as we waited for the motorcade to arrive (I wondered if this was meant to be a sign of respect, to keep warm in the cold weather today or both).
There was a family near us with two young children who did not have American flags to wave. Abby and I had picked up some extras yesterday, in case any of our friends joined us this morning. At that point I knew no one was meeting up with us, so we offered two of our flags to the kids and they seemed to appreciate getting to hold them.
I also struck up a conversation with a very nice man from our neighborhood, who was there with his wife and young daughter. He asked if I had any family members who were in the military. I told him that my father had been in the army in the late 1960's and served in Vietnam. The man told me that his oldest child, a son, had served two tours in Iraq. He talked about how blessed and lucky he feels that his son made it home safely and how his heart goes out to the Lowry family.
The man also asked me if I had to take the day off work to be there today. I told him I was a Stay at Home Mom and that I appreciate how my job allows me the flexibility to be able to take my children to experience things like this is. He let me know how much he respects Stay at Home Parents for what we do and that he believes it is every bit as hard and as important work as those who serve in the professional world. I agreed.
I shared with the man I spoke with today that I have an eight year old son who was in school, otherwise he would have been with us there too. I had heard a rumor that my son's school might get to join us on the route to pay their respects to the Lowry family. However, Sean let me know after school, that they did not get to go after all. He thought it was in part because the Chicago Public Schools are doing ISAT testing right now, which made sense. Though I was sorry that he missed being able to experience the motorcade with Abby and me. Knowing our son, I think he would have been very moved had he gotten to see what we did today.
Getting back to the motorcade, we could tell when it was getting closer, as there were helicopters flying around, from the local news stations who were covering the procession, that were now directly above us.
First we saw headlights in the distance, lots of them moving slowly in our direction. As the initial state and local police cars passed us, that were leading the motorcade, the highest ranking Chicago fire fighter present called the rest of the men to attention. There was a class from a local school standing near us at this point and their teacher told them to stand up straight, put their right hands on their hearts and hold out their flags with their left hands.
I told Abby that the motorcade we had been waiting for had arrived and that it was time to watch and wave our flags for Conner's family. She was very cold and getting fussy, as we had been there almost an hour by that time. So I was trying to move Abby's stroller back and forth to calm her down while also trying to take it all in and show those in the procession that I was sorry for their loss and proud of their son, brother, friend and fellow soldier.
First came the hearse that was carrying Conner's body in his casket.
That was followed by at least four or five limousines escorting Conner's family and many more cars filled with loved ones behind them.
That is when it really hit me what I was witnessing.
Many of Conner's family members had rolled the windows down in the cars they were riding in. They were waving to the people in the crowd, making eye contact with us and showing us how moved and how much they seemed to appreciate us being their to support them on their journey today.
Those moments are some that I don't think I will ever forget, as long as I live. It was an incredible and heartbreaking experience to be a part of.
Connor's family and other loved ones in the motorcade were followed closely by Patriot Guard Riders. I have heard about them before, but never witnessed what they do in person. It was also very moving for me to see. There must have been close to 100 motorcycles that drove by in honor and memory of Conner. This was Abby's favorite part of the day, as she is fascinated by motorcycles and was amazed to watch so many of them pass in front of us. After the motorcycles came other Patriot Guard, military and local police department vehicles.
And then it was over.
Abby and I walked home from there and talked about our experience. She wanted to know where all the motorcycles had come from and when/if we could see them again.
We decided to stop at a local bakery on our way home to warm up. We each got a doughnut and relaxed for awhile there as we ate them. We saw some people we know from our neighborhood, who had also been along the route of the motorcade. I appreciated being able to talk with other adults about our experience this morning. I said something about how I had never witnessed anything like that in person and our friends echoed my sentiments. One of them also pointed out that she hopes we never have reason to do so again.
It was an honor for me to be able to help our Beverly neighborhood welcome our native son home from the war and help his family and other loved ones prepare to say goodbye at his wake today and his funeral tomorrow.
I will leave you with a quote that I read on the side of the Patriot Guard vehicles that were in the motorcade. It encompasses for me what it meant to be a part of this experience today:
Standing For Those Who Stood For Us
Yes, exactly.
That is what we did today.
It is what we do for those who serve our country and sacrifice their lives to protect us and our freedom.
Rest in Peace Marine Corporal Conner Lowry.
Semper Fi.