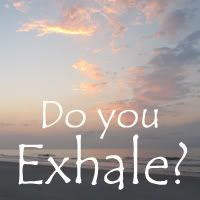 Last week my friend and Exhale Magazine Editor Kristin Binder, from Once a Mother, sent a message to the Exhale Staff. She asked if any of us were willing and able to create a button to promote Exhale and encourage others to get more involved with our literary magazine as readers and especially contributing writers. She suggested that the button would read "Do you Exhale?" and would be hyper-linked to our Exhale Magazine website.
I know how to make buttons and excited about the challenge, I replied to Kristin and offered to do so. I didn't want to use a stock photo or clip art image. So I thought about pictures that I had taken in recent years that might be a visual representation of what Exhale is about for our readers, contributors and staff.
I remembered that last year (in June 2011) my family had taken a vacation to Hilton Head Island, South Carolina to visit the place where my maternal grandparents had retired in 1979 and lived until my grandpa's death in 1998. Soon afterwards my grandma moved to the Chicago area to be closer to my family (especially my mother, her daughter and only child) and died in 2000. Throughout my childhood our family visited my grandparents on Hilton Head Island (HHI) every summer. Since 1998, we have tried to get there every few years. My grandparents are both buried there, we still have family who live in the area and spending time there is very nostalgic, meaningful and a lot of fun for my family and me.
Every summer when visiting my grandparents on HHI at least one morning my grandma and I would get up early and go to the beach to see the sunrise. It was a tradition that I looked forward to each year. Last summer my son Sean, my sister Meg and I got up together early one day to watch the sunrise. As I always have, I brought my camera to capture the incredible beauty of the sun rising over the Atlantic Ocean.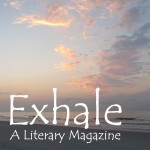 I thought of these photos and wondered if one of them would work well to use as the backdrop for an Exhale button. As you can see in the button above, I did find one that I thought would make an awesome button and logo (to be used for our Facebook page and Twitter profile pictures). So while I was at it, I also created a new logo for Exhale.
As I was working on all of this, it came to my attention that Facebook was going to be switching their "pages" the Timeline format. I knew we would need to have a long and narrow horizontal image that would work for Exhale's Facebook page "cover photo." So I looked through the other photos that I took that morning last June as Sean, Meg and I watched the sunrise on HHI. I found one that I took as we were leaving the beach, looking through sand dunes from the boardwalk at The Dunes House.
I played around with adding a title to the photo, cropping it to the Facebook cover photo dimensions and thought about possibly adding a new tagline to describe Exhale. At that point it was time for Abby and I to head to our weekly tandem yoga classes. So I put the design process on hold and we left. Though I tried to clear my mind during my yoga practice, at times I allowed it to wander and contemplate what I was working on for Exhale back home. Through that process I came up with "living and breathing through infertility and loss." I think it describes well what Exhale is about and what our readers, contributors and staff are doing in our lives through and after our experiences with infertility and loss.
When Abby and I got home I was excited to finish what I started and even though I was *supposed* to be packing and getting ready to leave for a weekend group fitness conference (to earn continuing education credits) that evening, I managed to squeeze in some more time to add the new tag line (though I still need to run it by the Exhale staff, especially our Editor Kristin) to the cover photo I had designed.
When I sent it all to Kristin she was very pleased, shared my enthusiasm for Exhale's "new look" and gave me the green light to use it all, including the new tagline, with only a few minor changes. We discussed that our Exhale website was also due for an update and I assured her that I could easily adapt the cover photo for Facebook to be a header for the website. It also seemed serendipitous, having just been through the process of moving my blog from Blogger to Self-Hosted WordPress, that I had the fresh knowledge and experience to feel confident in offering to help us redesign our website to fit the new images we are using for Exhale.  So even though I didn't have a lot of spare time to do this, I volunteered anyway, as many us do when we feel passionate about something we want to help make happen.
By Monday evening, a little over 24 hours after I had returned from a wonderful and exhausting weekend at the fitness conference, the cover photo/masthead, new web design, logo, button and even badges (for those who have contributed to or been featured on Exhale) were ready to go. So we launched the new look of our website, Facebook and Twitter pages Tuesday morning! We have gotten a lot of positive feedback since about our new image.
If you haven't checked them out already, please click over to see and follow/"like" our:
We would love to know what you think about all three!
Also, the call for submissions for our Spring issue of Exhale ends this Saturday, March 31st and it's not too late for you to contribute something. Please send your essays, poetry, short fiction, artwork and photography related to the theme of "Continuity and Expansion" to exhalesubmissions@gmail.com.
Thank you for reading and I look forward to Exhaling with you again soon!