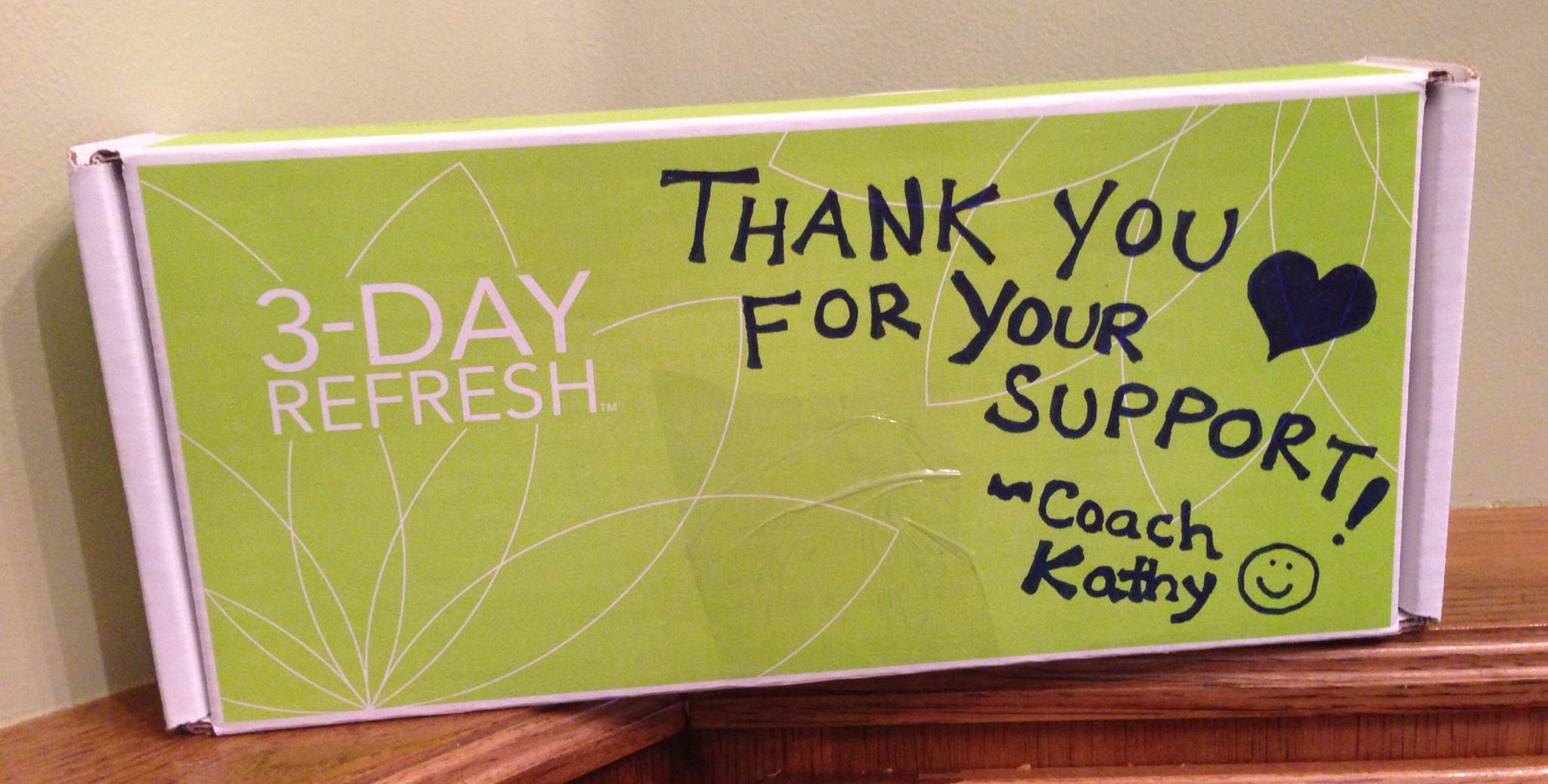 I wrote this top ten list right after I finished my first 3-Day Refresh, back in July. But I never ended up posting it. I recently came across the draft and decided it would be fun to share with the announcement of who won my Customer Appreciation Giveaway of a 3-Day Refresh!
So first off, I want to thank you all again for your support over the past 6 months, since I became a Health & Fitness Coach with Team Beachbody! It has truly been an awesome experience for me to work with and help over 100 clients to be fit and healthy, to mentor the 9 coaches on my team, as well as to learn with and from other coaches in our upline and my downline.
There were 213 entries in this giveaway (based on the guidelines in my original post), divided between 86 clients who have ordered something through me since April, with my most loyal client earning 12 entries!
And the winner is…
Sarah!!!
Sarah is a local friend, we met through our kids. She and her husband started their Beachbody journey with Focus T25 in the spring and Sarah also participates in my Step n' Sculpt classes that I teach at Beverly Bodyworks.
I asked Sarah what her experience has been like having me as her coach (no pressure, right?!) and this is what she said:
Kathy is such an enthusiastic and motivational coach! Her daily Facebook posts are a great reminder to work hard, exercise and make your own health a priority.
Sarah, I look forward to coaching you through your first 3-Day Refresh and hearing what you think!
Here are my Top Ten Takeaways from Doing the 3-Day Refresh:
10) To drink 8-10 ounces when I get out of bed in the morning, to get my system going.
9) That smaller portions/serving sizes can be filling, if you eat slowly and savor every bite.
8) Some great new healthy and clean recipes, to make vegetables tastier (which helps me want to eat them more often).
7) That when you are feeling hungry sometimes drinking a glass of water first can help fill you up and keep you from over eating.
8) I LOVE my Shakeology shakes, but prefer them to be made with milk and drinking one for breakfast vs. every meal, is enough for me.
7) That I can survive without meat, cheese, other dairy products, and bread, among other things. But that doesn't mean I want to do so very often.
6) That taking pictures of everything I eat, adding captions and/or making collages to/with them, before sharing all over social media is super fun, but time consuming.
5) There is very little we can't accomplish when we set our minds to our goals, work towards them and stay them course.
4) How much I "graze" in day-to-day life… Such as licking peanut butter off a knife after making sandwiches for my kids.
3) That even picky eaters, like me, can do the 3-Day Refresh.
2) That I love having herbal/decaf tea, even in the summer.
1) Almond Butter Rocks!

For those interested in learning more about the 3-Day Refresh or other Beachbody programs or products, you can comment, email me, and/or visit my website: http://www.beachbodycoach.com/bereavedandblessed I would love to help you find the best workouts and/or nutrition program for you.
Here is also a photo album, that I made on my Facebook Page, with pictures and detailed notes about my first experience doing the 3-Day Refresh:
{ 0 comments }