Team Caring Connection
We are a team of bereaved parents, grandparents, siblings, aunts, uncles, cousins and other loved ones running/walking for hope and remembering our babies who left this world too soon through miscarriage, pregnancy loss, stillbirth and infant death. Many of us are members (current and past) of Advocate Christ Medical Center's Perinatal Bereavement Support Group called Caring Connection in Oak Lawn, Illinois, which meets on the third Monday of every month.
~~~~~~~~~~~~~~~~~~~~~~~~~~~~~~~~~~~~~
In 2013, in honor of the 5th anniversary of our baby girl Molly's birth and death, on April 17, 2013, I wanted to do something special. I decided on starting a team, with members of Caring Connection, which I have participated in since September 2006 and more recently serve as a facilitator, at Advocate Christ Medical Center (where all of our children were born and Molly died). The purpose of Team Caring Connection is to train for, fund raise and run/walk together in the Advocate Children's Hospital's Annual Running for Hope 5K Run/Walk on the first Sunday of June every year, as well as possibly to take part in other runs and walks in the future together.
Many thanks to our family, friends and all those who participated in the 2013 Running for Hope 5K Run/Walk and/or donated to this worthy cause in honor and memory of our Molly and Babies Benson!
I am proud to share that in 2013 our family raised $2,294* and our team raised $3,389!
Your support and generosity means so much to us!
Here is information about where the money that was raised from the 2013 Running for Hope 5K went:
The Running for Hope Association is embarking upon its 7th year!  We have been so fortunate in past years to have been given the utmost amount of support from our community members, families, patients, friends, and businesses who have helped us attain our fundraising goal year after year.  Our primary focus, as always, is to raise more money each year to help the children and families of Advocate Children's Hospital – Oak Lawn, and the Ronald McDonald House® near Advocate Children's Hospital – Oak Lawn.

With your help and support, our annual event will enable Advocate Children's Hospital – Oak Lawn to provide the very best care and support to the children and families who face life-changing diagnoses and help to enhance the quality of life for the child and family. It will also aide in the operational costs of the Ronald McDonald House® near Advocate Children's Hospital – Oak Lawn.
I am looking forward doing it again this year with my family, other bereaved families/friends and anyone else who is interested in being part of and supporting Team Caring Connection.
Here is the link to register for the Running for Hope 5K Run/Walk on Sunday, June 4, 2017 and to the Team Caring Connection fundraising page that I set up where you can donate in honor and memory of our Molly and Babies Benson, as well as other much-loved babies who left this world to soon:
When you register for the race be sure to register as part of "Team Caring Connection." 
In past years, we had white t-shirts made (including two versions: one 100% cotton and one 100% polyester mesh, which is a moisture wicking material/ideal for running) which say Team Caring Connection with our motto "Running for Hope and Remembering Our Babies" on the front (see the design/our logo above) and "Always in Our Hearts" with a list of our babies names on the back (with the same two-colors, purple and black, and a complimentary design). A note about the colors we chose, since many of us have lost babies through miscarriage, when it was too early to know their genders, we liked the idea of combining pink and blue, representing both girls and boys, to get purple and honoring all of our babies, including those who never took a breath, but will still always be in our hearts.
It brings me joy and comfort to share that there are 40+ families, who have been a part of Caring Connection over the years, whose 50+ babies names are on our shirts, including Molly and Babies Benson. Team Caring Connection wore our shirts during the Running for Hope 5K in 2013 and loved seeing others in the race and/or on the sidelines wearing them too! The shirts are not just for the bereaved parents in our group. In addition to bereaved mothers and fathers, siblings, grandparents, aunts, uncles, cousins and friends wear them too.
We updated the shirts for 2014 and 2015. So if you ordered them in previous years and want to wear them again this year, that is fine. We may also be placing a new order and adding more baby names, for those who want their children listed and weren't a part of our team in the past, please reach out to me directly if this is something you are interested in.
This was and continues to be a wonderful and therapeutic way for my family and Team Caring Connection to give back and pay it forward to the hospitals and staff that have meant so much to us on our journeys through the lives and deaths of our babies.
Please let me know if you have any questions. If you have never run a 5K, there are some great training websites that help those who haven't run 5K before, including this one. It is also fine to walk the 5K (which the majority of Team Caring Connection has done in previous years) or even stand on the sidelines/race route and cheer for Team Caring Connection. Also, for anyone with living children, who might not feel ready to do the whole 5K, there is a 1 mile fun run "Kids Dash" that day as well.
For those who are not local to the Chicago area and won't be able to join us on Sunday, June 4th, 2017, please keep us in your thoughts and prayers between now and then, as well as on race day when we will be running for hope and remembering our babies.
You can also "like" our Team Caring Connection Facebook page here:
https://www.facebook.com/TeamCaringConnection
Thank you for reading and continuing to support Bob, Sean, Abby and me on our journey as bereaved and blessed parents and siblings of Molly and Babies Benson, who will never be forgotten and always live on in our hearts.
Sending lots of peace, love, light, thoughts and prayers to all of you during this spring season.
Take care,
Kathy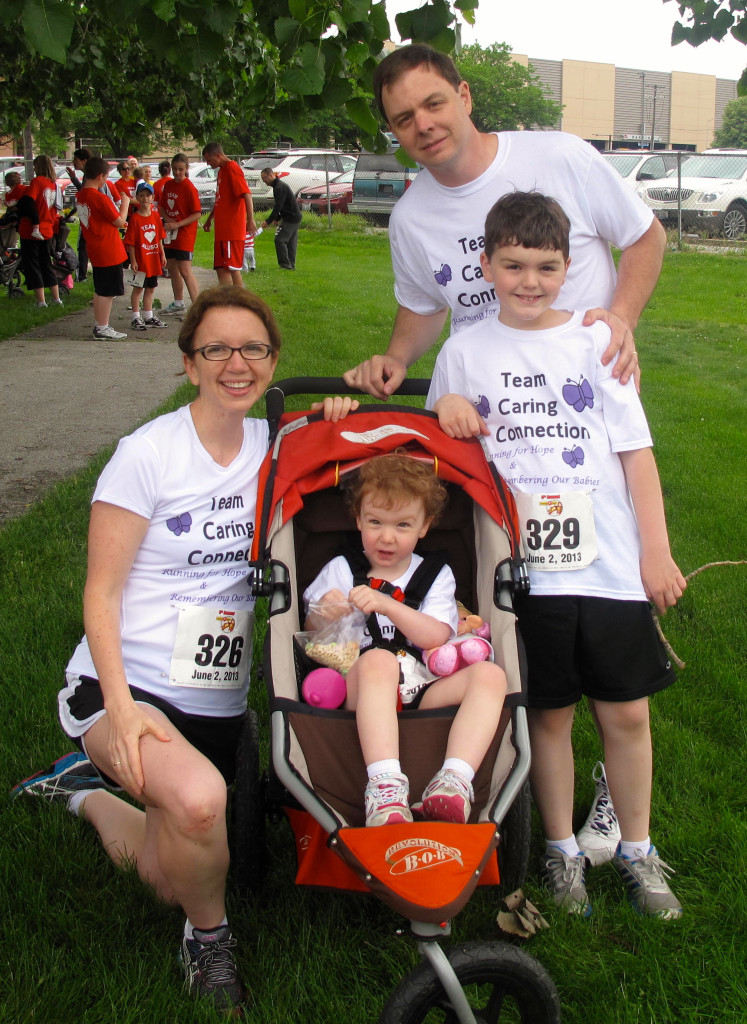 ~~~~~~~~~~~~~~~~~~~~~~~~~~~~~~~~~~~~~
Posts related to Team Caring Connection:
Team Caring Connection (April 3, 2013)
Introducing Team Caring Connection here on my blog.
38 (April 29, 2013)
Sharing about the number of babies and families represented on our shirts and what I tribute I believe it is to them, as well as showing what the design.
A Dream Come True (May 16, 2013)
A post about t-shirt order arriving and how bittersweet it was for me to sort through and organize them to give to the families and friends who are Team Caring Connection.
Running for Hope Eve (June 1, 2013)
Written the night before the race in 2013.
Story of the Day: Connection (June 2, 2013)
A brief post, the morning of the race, sharing what I felt was a sign of love from above.
Team Caring Connection: Running for Hope & Remembering Our Babies (June 5, 2013)
Wrap-up post about our wonderful experience with Team Caring Connection in 2013, thanking everyone who participated, donated and supported our team.
Team Caring Connection 2014 (March 28, 2014)
2014 Team kick-off post with what you need to know f you want to be part of Team Caring Connection (again or for the first time) this year, fundraise or donate in honor and memory of our babies who left this world too soon.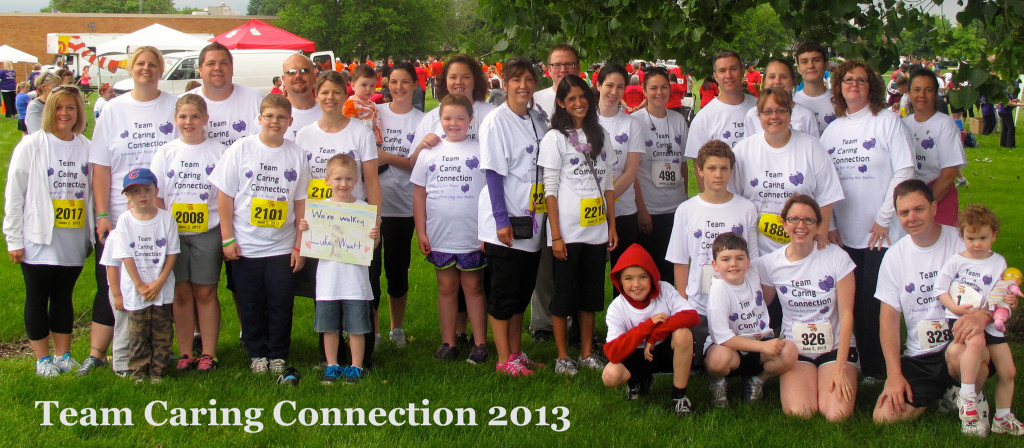 ~~~~~~~~~~~~~~~~~~~~~~~~~~~~~~~~~~~~~
*Some of the donations made in honor of Molly and Babies Benson didn't make it directly to our fundraising page, but the money is still going to the same place ultimately and we want to recognize all of our family and friends who have contributed in the total. We are so grateful for your support!