Secondary Infertility Stories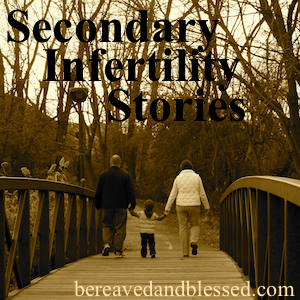 For awhile I have thought it would be interesting and helpful, especially for those still in the trenches who want more children, to profile other families who have dealt with secondary infertility. Many of these people I got to know during our journey through secondary infertility (via community forums and/or blogs). Being able to share with them what it was like to be in similar shoes trying to expand our families helped me to cope and find hope.
I launched this new series during National Infertility Awareness Week (NIAW) 2013. In the coming months I plan to share interviews here with those who have dealt with or are still dealing with secondary infertility, in an effort to raise awareness of a disease that affects 1 in 11 couples, or approximately 4 millions Americans, and accounts for about 50% of all infertility cases, according the Center for Disease Control and Prevention (2006).
My intention is for these "Secondary Infertility Stories" is to bring comfort and hope to those still in the trenches, as well as a reality check in regards to possible outcomes. I also think it will be therapeutic for me to revisit and shine light on some of those who helped me survive "the unique hell that is Secondary Infertility," as Jjraffe wrote about in her most recent Faces of Adoption/Loss/Infertility profile on Esperanza from Stumbling Gracefully (a dear blogging friend who has also struggled with secondary infertility).
Secondary Infertility Story Posts:
Secondary Infertility Stories: Just One More… (April 24, 2013)