You read that right.
This is about LTYM Chicago 2016.
I started writing sometime after the show, one year ago yesterday, about the incredible experience that was Listen to Your Mother Chicago 2016.
I would add things to it now and then, getting pretty far with my post, but never finished or shared it until now.
It's never too late.
On the day of the show (May 1, 2016), I didn't look at my phone/use social media between 2:00 p.m. (right before the show began) until a little after 7:00 p.m. (after dinner with my family). It was awesome to be fully present/in the moment for those 5 wonderful hours.
I believe my memories during that time are actually more vivid for not having tried to capture them, other than taking mental pictures.
As we gear up for LTYM Chicago 2017 (one of the many Listen To Your Mother Grand Finale Season shows across North America), I give you my recap from 2016 and encourage you to join me in the audience THIS Sunday, May 7th at 2:00 p.m. at the Athenaeum Theatre.
And a shout out to my good friend Audra, who shared this guest post, "Are You My Mother?" here awhile back, and then read it live this past Sunday, as part of the LTYM Detroit 2017 cast!
~~~~~~~~~~~~~~~~
13 people
13 stories
Different perspectives
Shared experiences
Strength is our common thread.
I went first and read "We Are Moms."
I was surprised not to be able to see anyone or anything in the audience.
There were bright lights and blackness.
I found that strangely comforting.
I knew some of my loved ones were in the audience, but not exactly where they were sitting.
I could feel their presence though, along with the love radiating from everyone there, both those on stage with me and everyone in the seats of the theater, as well as so many I know were with me in spirit.
I channeled my inner sloth and tried to read my piece slowly.
I savored my few minutes in the spotlight.
I got to tell part of my story.
It was amazing.
I did well… really well.
Better than I thought I would.
I shined.
Then I got to return to our tribe of 13, who welcomed me backstage with awesome affirmation and validation.
And I was so excited to share with them about what it felt like out there, how I couldn't see anyone specifically and how much I loved that! They all seemed encouraged to know that.
Then came Sidney with "When My Butterfly Gave Me Wings."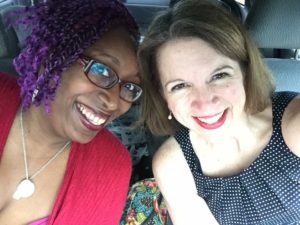 It was an honor to share the stage with Sid, who is definitely stronger than she thinks. The piece she shared, about surviving the death of her mother, was so moving. Sydney's mom has so very much to be proud of. And it was so fun to be carpool buddies the morning of the show and represent the south side of our town together.
This is Sidney's recap of her experience that day.
And I don't think I told Sidney until after the show that I also associate butterflies with our daughter Molly, who died soon after she was born in April 2008. So from the moment she stood behind the podium, at our first practice, wearing butterfly earrings and I heard what her piece was called, I knew we'd have a special bond/connection. Though our losses came at very different stages of lives for our loved ones, we both sadly know the grief of losing a family member much too soon and I believe that through sharing our journeys we honor their legacies, as we pay it forward.
Next up Melisa reading "I Let Go."
Melisa is one of the Co-Producers of LTYM Chicago and National New Cities Mentor. She shared a touching piece about letting go of her son, as he left for a trip overseas. Melisa gave me a glimpse of life with older/young adult children, which may seem far away now and yet I realize will be here before I know it.
Thank you Melisa (and Tracey), for choosing me and my story to be part of Year 5 for LTYM Chicago.
This is Melisa's recap of Sunday and really the past five years since they brought LTYM to Chicago.
I love the significance of the necklaces! Not to mention that we (the cast) bought necklaces (different ones) for them too.
And I love that Melisa and Tracey have evolved into both being Phobe-like leading up to the big show in recent years. I am sure if I had been involved sooner I would've been more Monica-like too. But having evolved myself over the years, I definitely was channeling more of my inner-Phobe this past week and for sure on Sunday. It was such an amazing experience!
Followed by Francie with "Belle of the Ball."
Oh, how I can relate to Francie's story, at least the part about getting sent to one's room during a childhood birthday party. My dad still loves to tell people that story (I was upset my friends were not paying attention while I was opening my presents)! And I am so grateful that Francie got sent to her room way back when and wrote about it later, so I would get to meet and share the LTYM Chicago 2016 experience with her. Francie is an awesome writer and you can read more/follow her here.
And then Beth read "Fifteen Hours of Great America."
Beth rocked the stage, as she shared a real, funny, and heartfelt piece about the highs and lows of her family's trip to Great America. Who can't relate to a family trip that comes with high expectations and plenty of things not going as planned?! I love how candid she is in her writing, allowing her readers to know they are not alone and feel validated.
Beth was the only cast member, besides Melisa and Tracey, that I knew ahead of time (through blogging) and so being part of LTYM Chicago 2016 with her was extra special. Here's Beth's recap of show day. So true about our bond, the laughter, lack of judgement, and support we share.
Megan shared her struggle in "Bruised Apples."
Megan's piece was one of the most moving, honest, and powerful pieces in our show. She talked openly about her struggle with Postpartum Depression, after the birth of her second child. I know so many who have also dealt with PPD and am so proud of Megan for letting others know she has been there and they are not alone.
And I couldn't agree more about what Megan says in her recap, that motherhood never looked so very strong and beautiful as it did that Sunday!
Bonnie took the stage with "Mothers in the Hood."
Bonnie is unapologetically herself, which I love about her and think so many of us strive for. Through sharing both her confidence and vulnerability, she gave us a window into what it feels like to live in the inner city and deal with gun violence at your door step. It is a powerful message about wanting to protect our children and the reality of raising them in our world today. You can read more/follow Bonnie here.
Tracey was next and read "Homeschool Supermom."
Tracey is the other Co-Producer of LTYM Chicago and Director of our show (see above where I wrote about how much I adore Tracey and Melisa). She is a natural on stage, telling us what it's really like to be a mom who home schools her children. I still giggle thinking about the antidotes she shares and how validating it is to be reminded, regardless of what kind of mom we are, whether by choice or circumstance, we are all supermoms! You can read more/follow Tracey here.
Thanks again, Melisa and Tracey for EVERYTHING you both do to make LTYM Chicago so awesome!
Then it was Mollie's turn with "Me and My Uterus."
There's something about Mollie, that makes you want to be part of her world. The way she can make us laugh and feel special while we are with her. Mollie wrote and shared, in a hilarious and touching way, about how her body changed after having her two children and how she knew she was done.
Mollie's recap captures so well what it felt like to be on stage speaking to the loving faceless abyss that was our audience and I am grateful to be part of her world now.
Followed by Andrea moving us all with "No Greater Love."
Andrea has an incredible way with words. She paints a picture that is easy to enter and so relatable. I still think of Andrea and her story, in those little moments of motherhood when I am struggling and need a little push to be the mom I want, and my kids need me, to be. This wasn't Andrea's first LTYM rodeo and it was easy to see why she was invited back again, to be part of our 2016 Chicago cast. You can read more/follow Andrea here.
And then our Neen read "Remembering My Mother's Power the Day We Buried My Father."
The older I get, the more I appreciate that both of my parents are still alive, though navigating life with aging parents certainly has it challenges. Nina's piece, along with Sidney's, were heartbreaking for me to digest, as I realize I will likely be in their shoes someday (having to bury my mom and/or my dad).
Nina shared in her recap, "I am smiling because this happened. I loved every minute of my perfect experience, our perfect experience. I'm allowing the truth, beauty, love, strength, gratitude and my version of perfection to take hold of my life and guide me. This is reality now."
Usually when I think about navigating a new reality, it is after I have experienced loss or an unexpected change/upheaval in my life. I love that Nina is taking our amazing LTYM Chicago journey (thus far) and allowing it to guide her, to invite more positivity and comfort zone challenges to move her along. This kindred spirit is such a gift to our Tribe of 13. And I feel so blessed and lucky to be one of Neen's 12.
Up next was Rachel with "Early Dismissal."
Not having been a mom with an office job in the professional world, Rachel gave me (and others who may have had different life experiences) a hilarious and touching inside look at how she tries to balance motherhood with the working outside her home. And we all know, as Tracey also shared about homeschooling, that none of us can have or do it all, in spite of our efforts to juggle as moms. You can read more/follow Rachel here.
And then Pete wrapped it up with "The Road Trip."
Pete is one of the best storytellers I've met. And as a mother to my own son, I relish in Pete's perspective on his mom. Pete's tale of a road trip he took many years ago, with his mom and aunt, was an awesome way to end our show. I will forever laugh and think of Pete, when I hear Kris Kross's "Warm it Up" or MC Hammer's "You Can't Touch This!" You can read more/follow Pete here.
We had fun, didn't we?!
As my mom would say, being part of LTYM Chicago 2016 was "a peak life experience." Beyond grateful for the opportunity and all those who were with me, whether on stage, in the audience, or in spirit.