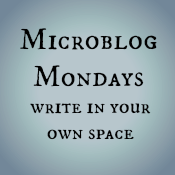 Today I will start with 1/3 of the dose I had been taking.
I began stepping down off of my medication for anxiety last week.
Week 1, during which I took 2/3 of the dose, went well.
I am hyper aware of my emotions, trying to see if I notice significant differences or side effects.
This includes a small increase in my anxiety level.
I also have noticed I am more prone to cry than I have been in a while.
Staying the course and cautiously optimistic this process will be worthwhile.
Are you making any changes (big or small) in your life or daily routine this week?
Not sure what #MicroblogMondays is? Read the inaugural post which explains the idea and how you can participate too.
You can find more of this week's #MicroblogMondays posts by clicking here.