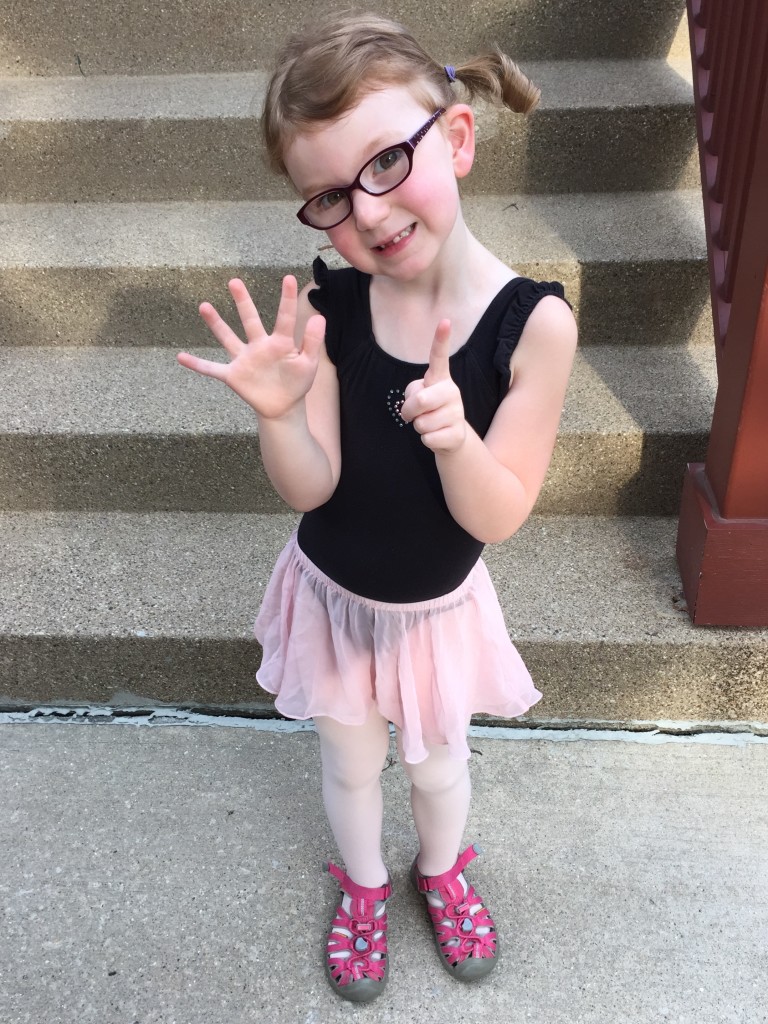 You are in Kindergarten now and loving it!
You started last week and have so many fun stories about each day when I pick you up from school. We have started playing "school" when you get home. You are the teacher and I am your ("very helpful," especially when household tasks need to get done) student.
Last night you lost your third baby tooth and your first from the top of your mouth. We giggle about the fact that you've yet to lose a tooth at home. Two have come out at our local Beverly Arts Center (once during Summer Arts Camp and once during play practice) and one (your very first) during our family reunion this summer in Door County.
Your toothless grin is adorable and I enjoy your frequent updates on your "wiggly teeth." This morning, as we were walking to school,  you mentioned you have four more wiggly ones.
We have been celebrating your birthday for almost a week now, as we began on Saturday with your "friend party." It was so awesome to take you and three of your besties, along with Daddy and Sean, to American Girl Place in Chicago for tea. It was a "peak life experience" (thus far) for you, as Grandma Jacquie would say! You got to buy your first older American Girl doll and chose Maryellen from 1954 and had a blast exploring the store with your girlfriends and their dolls. Maryellen is adorable and I love watching you play with and dress her, as well as her younger sister Suzie, the Bitty Baby doll you got at American Girl three years ago, on your third birthday.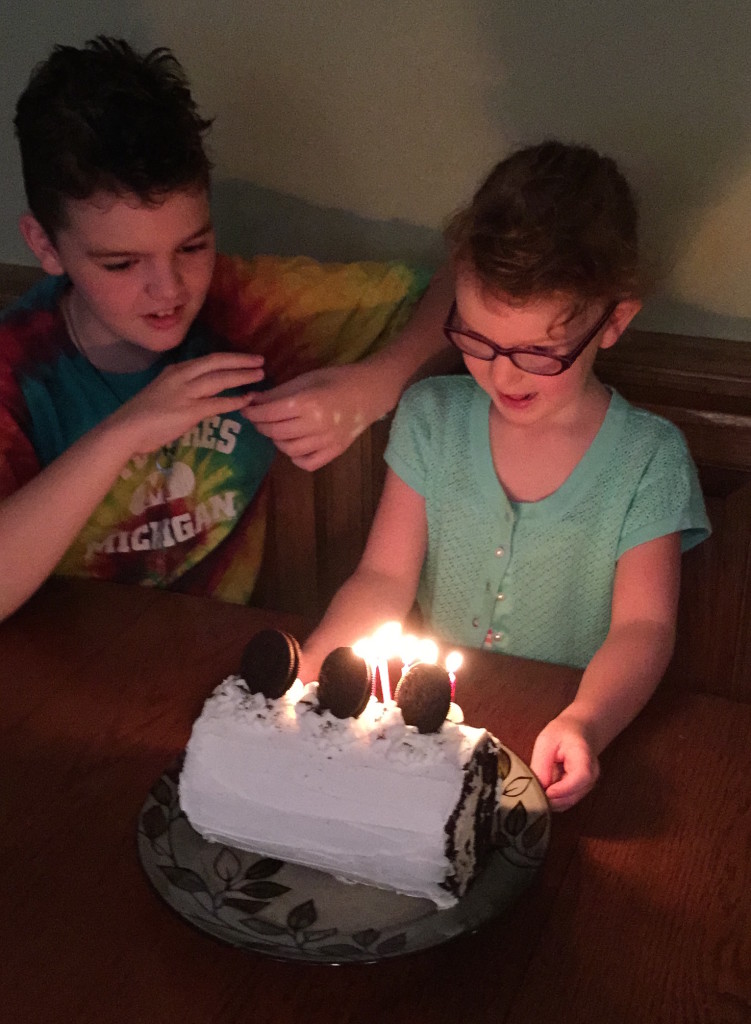 I don't know what it is about this age/time in your/our lives… But you are so darn cute! I wish I could write down or record practically everything that comes out of your mouth! And I try to take notes when I remember. You still get "ask" and "tell" mixed up at times, as well as "throw" and "catch." You look up to your big brother Sean so much and I am glad that you two get along so well, most of the time.
In addition to being in full day Kindergarten at our neighborhood elementary school, you are busy with extracurricular activities. This Fall you are taking Pre Ballet with Miss Marilee (who you ended up switching to after your birthday last year, because the class time worked better for our family's schedule) and Tap with a new (to you) teacher at Dance Gallery. You seem to have inherited my passion for dance and have got a lot of talent as well. It will be interesting to see where you go with it.
You and Sean are in your third Beverly Arts Center musical together! This one is Sleeping Beauty and you'll find out next week what your roles are. Though you aren't a big fan of speaking on stage, you are making progress. During the Summer Arts Camp that Sean and you participated in, you had a small speaking role in the end of camp show and rocked it!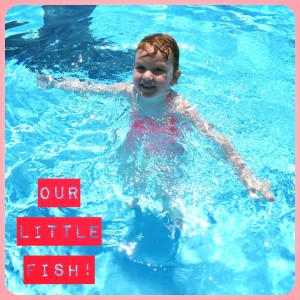 This summer you grew to LOVE swimming! And we were amazed by how much you challenged yourself each time you were in a pool or lake. You went from being somewhat fearful of water to jumping in without holding anyone's hand and eventually going under water willingly, on your own. You are excited for the park district indoor swimming lessons that you and Sean are taking starting later this month.
You consider yourself a fashionista and often pick/lay out your outfits for the next day the night before. I get a kick out of the combinations you put together and the way you pose for pictures now, when it used to be difficult to even get you to smile or look at a camera.
You favorite meal is spaghetti! You prefer it with butter and parmesan cheese on top, though sometimes you also like a little sauce with it. We ate it for dinner the first day of school last week, as Sean and you both requested it, for that special day. And we will be having it again tonight for dinner, in lieu of going out to eat at a restaurant, per your request.
Even more than noodles, you love all things cookies and cream/Oreo flavored! You especially crave Oreo milkshakes and ice cream. Whenever we go to a restaurant (such as Jansen's in our neighborhood) that serves milkshakes, you are so excited for yours! And on the first day of school, when we went for our traditional visit to Rainbow Cone, you got a scoop of cookies and cream, which has taken the place of Rainbow as your favorite earlier this year. And you even requested a cookies and cream ice cream cake for your birthday this year! I managed to find one at Baskin Robbins yesterday, so you even got to have a piece for breakfast this morning!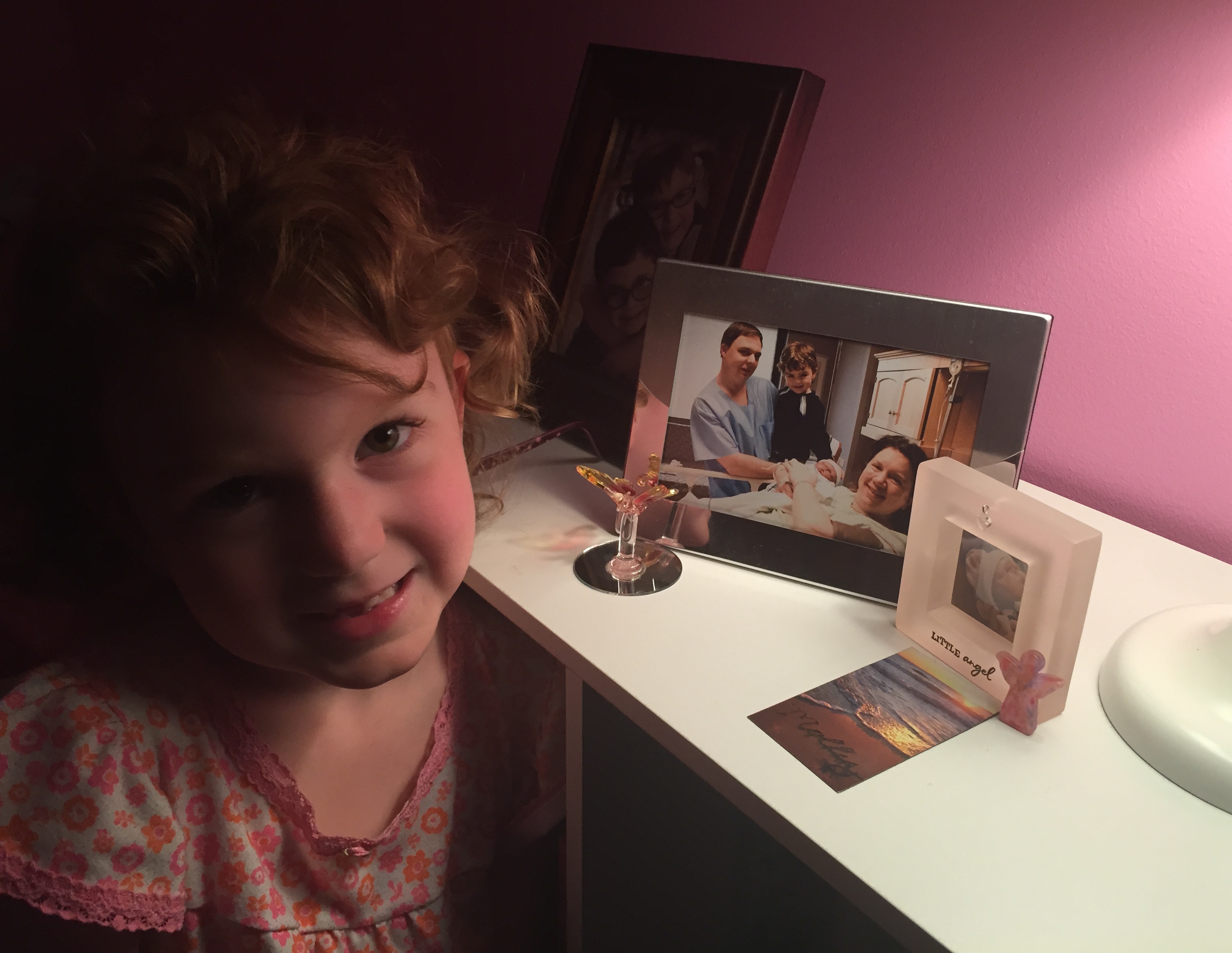 Last night, as you were getting ready for bed, I found you arranging things on top of your bedside bookcase. You told me it was your "Molly Section." And my heart melted… I continue to be blessed by and amazed with how you help us to honor the memory of your sister, whom you never got to meet in this lifetime. We came across the picture of our family (before you were with us) one day this past year, when you wanted me to show you what was in our "Molly Box." You asked if you could take the frame out and place it by your bedside. You saw the Molly magnets (that we made for the first anniversary of her birth and death with her Name in the Sand) and asked to have one as well. Thank you for helping us to honor your sister Molly's place in our family. It means so much to me.
Your extended family is very special to you too and you have so much fun playing with your cousins, as well as spending time with your aunts, uncles, and grandparents. It will be great to get to celebrate your and Sean's birthday this weekend at our "family birthday party" for you two, where you'll get to see so many of your favorite people.
You are blessed and lucky to have some really great friends. It was bittersweet that your best friend, since  you were babies, J moved away earlier this year. I was worried that you would be lost without him. Though you miss him a lot and talk about him often, you are adjusting to life without him here. It helped that his family visited and stayed with us for a few days in July and that we got to travel to see them at their new house in Michigan in August. It is also fun when you two exchange videos that his mom and I take of each of you on our iPhones and then send to each other.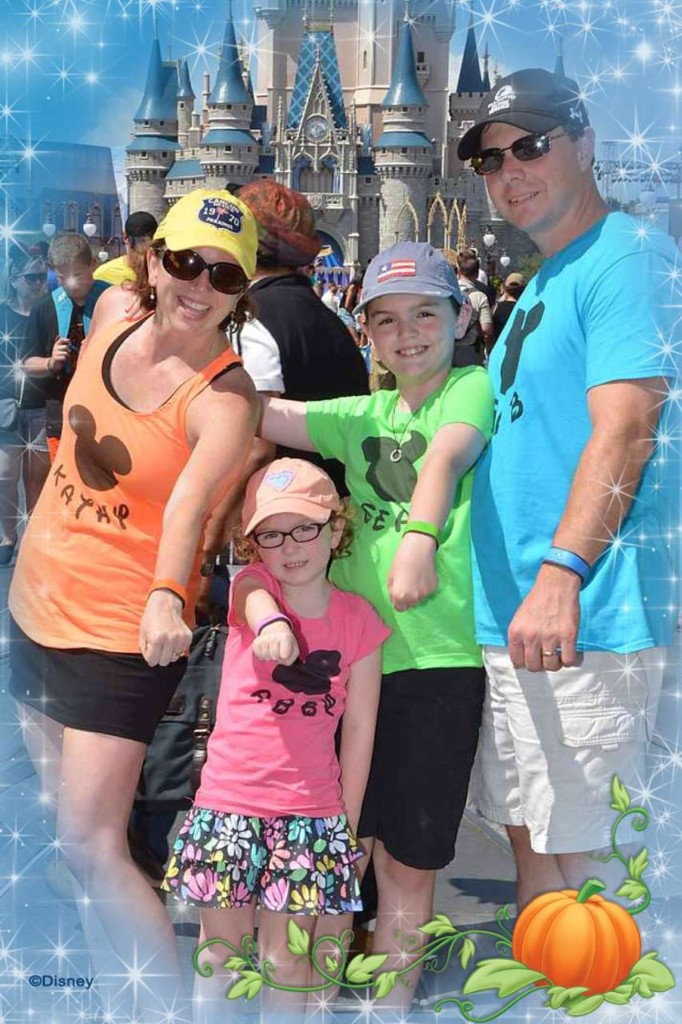 A highlight of this past year, for you and our family, was our wonderful trip to Disney World and Universal Studios in Florida last month! It was an epic vacation and I loved watching you soak it all in! I will never forget watching you be transformed into Rapunzel (with pink and blue hair extensions) at the Bibbidy Boppidi Boutique before we ate dinner at Cinderella's Royal Table (in her Castle) on our first day at Magic Kingdom and a mermaid at the Pirate's League, before we ate lunch in the Beast's Castle on our last day there! You were awestruck meeting so many Disney princesses and characters. And you got to bond with your Daddy (who you already have a special relationship with), since he doesn't do well with roller coasters and 4D thrill rides, while Sean and I challenged our comfort zones! I hope you never lose your sense of wonder, imagination, and belief in magic.
I am so grateful that you are our daughter and sometimes still have to pinch myself when I think about our journey to conceive and bring you home six years ago. Thank you for all that you are and bring to our family.
Happy Birthday, my dear Abigail Grace!
I wish you a truly magical year and look forward to so many fun and memorable experiences with you as a six-year-old!
Love,
Mommy