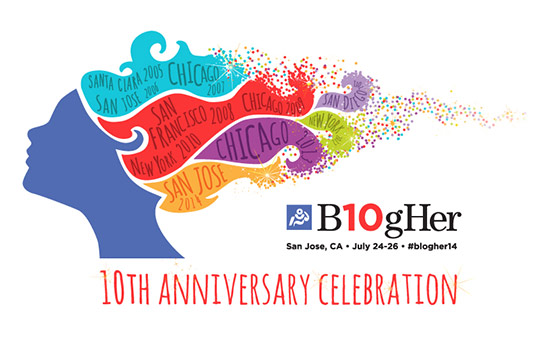 "Sometimes the hardest thing and the right thing are the same." ~ All at Once by The Fray
I am not going to BlogHer's annual conference this year.
That wasn't the plan.
I'd bought my early bird full conference ticket, reserved a hotel room at the Fairmont, booked my airfare and coordinated with blogging friends, who also planned to be there, as well as let family and friends who live near San José know I would be visiting in late July.
Then things changed.
Two different roommates, who I was so excited to attend with, were blessed with miracle pregnancies, after struggling with infertility and loss, and decided not to go.
Many of my favorite bloggers, who I consider to be my tribe, decided they also would not be attending this year.
I wasn't chosen to be a speaker (though my first roommate and I, along with others, did submit a session proposal) or to read one of the blog entries I submitted for Voices of the Year.
Though I truly had the time of my life at BlogHer'12 in NYC (my first BlogHer conference, where I was also a speaker/part of panel) and again had an amazing experience at BlogHer'13 here in Chicago, for some reason, in recent weeks, I just wasn't feeling it.
Lately I have been focused on my new business and passion, being a Team Beachbody Coach. I love sharing about health and fitness with family, friends and others who want to make positive changes in their lives.
I haven't not been blogging as much, nor have I felt as compelled to develop or expand my blog, beyond where it is for now.
I do believe if I were going to be in San José in a few weeks, that I would have a wonderful time.
I know a lot of fellow bloggers, whom I respect and adore, who will be there and one in particular  that I am especially disappointed I won't get to be with in person.
However, a little voice inside me started suggesting that it would be okay if I chose not to go after all this year. I researched my options, including what was in involved in canceling my plans. In the end after being able to sell my conference ticket (giving the buyer a discount), giving up the hotel room I reserved and taking a credit on my Southwest Airlines account, I am only out a little over $100.
It isn't all about the money, but it was certainly a factor.
I am proud of myself for doing what makes sense to me and my family right now.
Will it be hard not to be there, when I see so many awesome bloggy friends posting all over social media about BlogHer'14?
Of course!
Will I continue to have mixed feelings about my decision in the days and weeks to come?
Yes, I probably will.
Am I sorry that I decide not to go this time?
No.
So for those who will not be making the trip to BlogHer'14 in San José, for whatever reasons, I get it.
For those who will be there, I am so happy for (and a bit jealous of) you!
I look forward to hearing all about it and know I can count on you to share and hashtag away (#BlogHer14) on your blogs, Facebook, Twitter, Instagram and Google +.
Will I attend another BlogHer annual conference in the future?
I don't know.
I would like to, especially when it returns to Chicago (which it likely will at some point).
Do I think you should still go this year or another time, if you have never experienced one before?
Absolutely!
Am I grateful to Lisa, Elisa, my old friend Jory, and everyone who is part of the BlogHer team for making BlogHer what it is, as we celebrate this 10th anniversary of the annual conference?
So very…
It isn't easy to make these hard choices in life.
But the older (and more mature) I get, I realize how important it is to be true to ourselves, to our families and to what makes sense to us, at any given time.
Yes, it is important to follow through on things we commit to doing.
However, I also believe that in certain situations it is just as important to know when it is time to walk away.
If you are going to be in San Jose later this month, I wish you the best and please take lots of pictures and post lots on social media (as I know you will), so I can follow along virtually!
Sending love and light to all my favorite bloggers, wherever you will be during BlogHer'14 and grateful to have your writing and friendship in my life. xoxo