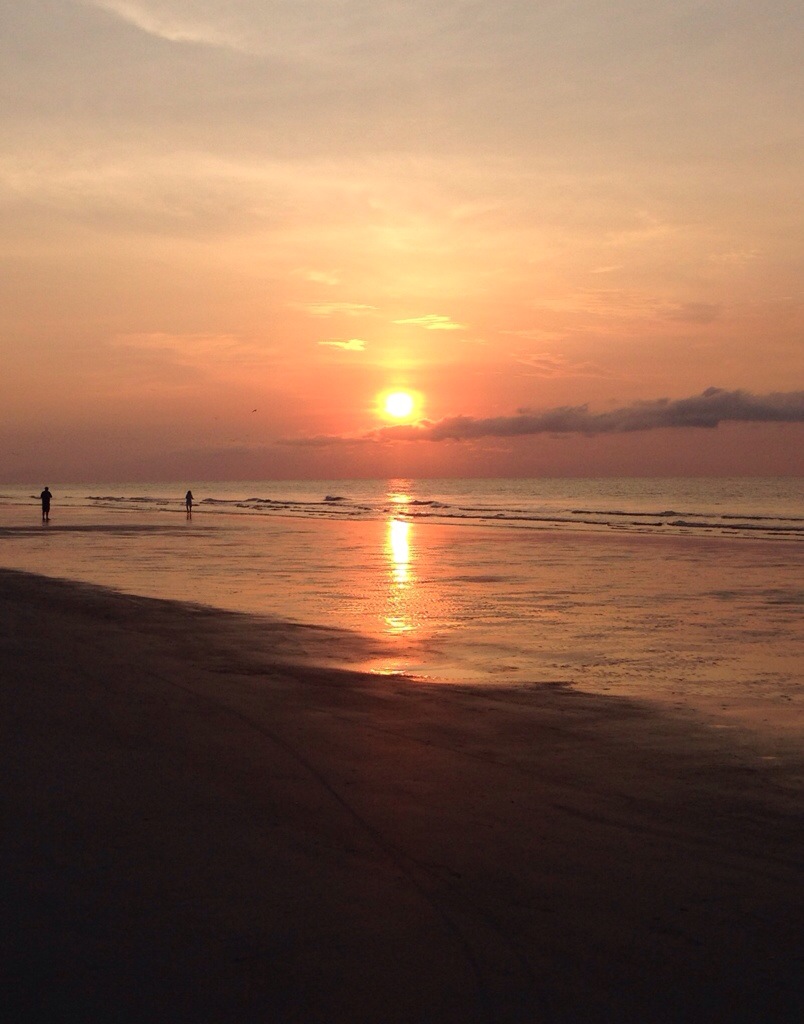 I took this picture, at sunrise on Hilton Head Island, the morning after she died, before I knew she died.
~~~~~~~~~~
I woke up this morning groggy and immediately remembered the voicemail we received upon returning home from our wonderful vacation last night.
It was from an old and dear friend's best friend and I had a painful hunch that her reason for calling wasn't good.
I asked Bob to stay with the kids while I went upstairs to return her call. The phone rang to the point where I thought she wasn't going to answer. Then I heard her voice.
Three years and two months after I received a similar call from my childhood friends' aunt, informing me of the death of the younger of the two sisters I grew up babysitting for, I was told the older sister has also died.
It is different this time. Of course I am unbelievably sad. But I have come a long way in my understanding of my role in other people's lives, especially when it comes to responsibility and death.
Though I do wish I had been in contact with her since I received her last text on April 10th, in reply to one I sent her the week before (acknowledging the third anniversary of her sister's death and sending my love). I know it is unlikely it would change anything.
She took her own life.
That makes me feel so sad, so angry, and a whole host of other emotions.
I met her when she was just a baby and I was walking home from Kindergarten one day after school. Her mom was playing with her on a blanket in front of their home. She was so cute.
We had moved the previous year from our home in South Evanston and the kids closer to my own age who lived near to us were less than welcoming to me. So I befriended this little baby and her mom. Two years later her younger sister was born.
At first we were playmates, they were the younger siblings I never had. We even looked alike and were asked often if we were related when out in public together, going for walks or playing at the park.
I became their mother's helper and eventually their regular babysitter. Through junior high and high school, most Saturday nights I could be found at their home, caring for and playing with them, while their parents had their date night.
At their bedtime I would sing to them, usually until they fell asleep. They loved our ritual and so did I. I never liked my singing voice, but for some reason felt comfortable performing for them. They made me feel like I had the most beautiful voice in the world.
They read together at Bob and my wedding, an excerpt from The Velveteen Rabbit, about what it means to be real.
It's hard for me to wrap my brain around the fact that they both left this world much too soon. It's painful to think about what led to both of their untimely deaths.
What went wrong?
Why weren't they able to stay with us here longer?
So much of my time and experience with them in my adolescence helped shape me into the woman and mother I am today. For that I am forever grateful.
I am just beginning to process this news. As so often is the case for me, it helps me to write, as I work things through.
I am exhausted from crying. It comes and goes, but my tears have been flowing often since I learned of my friend's death.
I scrolled through our texts last night, from the past few years and find peace and comfort knowing that my friend knew how much I love and care about her.
We were together in person, for what I know now was the last time, in August 2012. We had brunch in NYC. I remember that day and our meal together fondly. I even have a picture of the two of us that day. It already meant a lot to me and now means even more.
My friend was generous in sharing her love for me and how much our lifelong friendship meant to her, especially in recent years, via her text messages to me. That is helping me to cope.
So though I do wish I had tried to contact her in recent weeks to check in, see how she was doing and remind her how much she means to me. I will not allow myself to spend time believing it could have or would have made a difference.
I just can't go there.
It took lots of prayer, time, reading and therapy to get to a place where I could understand that I also could not have prevented her sister's death.
So I guess that is a gift that her younger sister gave to me, to know this is not my fault. My friend knew I loved her deeply and would do anything for her.
Unfortunately her illness (called Cushing's disease) affected her body and her mind. I know in my head and my heart that it somehow became too much for her to bear, after many years of trying to live and cope with her condition.
Though I wish that it had not come to this.
It is what it is.
But it sucks.
It really does.
Though I am not completely shocked, I didn't see this coming.
Not now.
Not yesterday.
Damn.
Why?
Dammit! Why?!
Sometimes, I have learned, there are no answers.
We just have to sit with the questions and somehow accept the uncertainty they leave us with.
Life is difficult.
It is unfair.
Love ones leave us and this world before we want them too.
It is heartbreaking.
We will never be there same, without them here.
But life goes on and so do we.
One day, one hour, one step at a time…
We make them proud with our lives.
We never forget them.
We realize we are better for knowing and loving them.
We remember… Always.
~~~~~~~~~~
I love you, girls.
You helped make me real.
xoxo
~~~~~~~~~~
"And if I should ever go away, well then close your eyes and try, to feel the way we do today. And then if you can't remember…
Keep smiling,
Keep shining,
Knowing you can always count I me,
for sure,
that's what friends are for.
In good times,
In bad times,
I'll be on your side, forever more.
That's what friends are for."