Those three letters make my heart leap and bring a smile to my face.
I went there for the first time in 1979.
My maternal grandparents retired, decided to move there, and stayed until my grandpa's death in 1998.
Hilton Head Island, South Carolina
It's calling me home…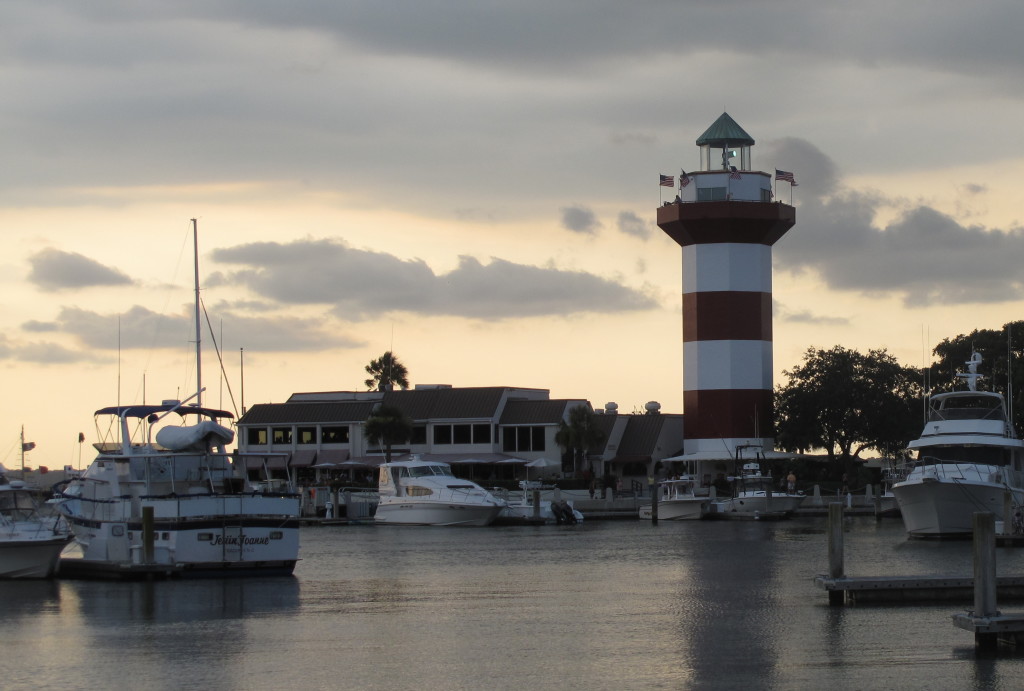 This time next week I will be there.
I spent two weeks every summer of my childhood and young adult years there visiting my Grandma Dee and Grandpa Jack.
Usually my parents, older sister Meg, and I drove there. But a few times I got to fly there, all by myself, and stay a whole month. My mom and dad, in those instances, would arrive for the last two weeks and then we'd head home together.
I have so many wonderful memories of our two-day family road trips to get to and from HHI. It was long before there were portable DVD players, smart phones and tablets. We played the Alphabet Game, the License Plate game, cards, did Mad Libs and Yes & No books, with those special invisible markers (that only worked in the books, to reveal things). I recall getting yummy snacks at gas stations, including Mellow Yellow, Combos, and those bright orange cheese cracker peanut butter sandwiches.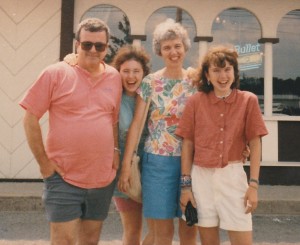 As we would drive through small towns, my dad loved to interact with the locals. He would honk and then tell us to smile and wave at the people we passed. Of course they always smiled and waved back, looking somewhat confused when they didn't recognize us. Sometimes we would pack meals ahead of time and stop at rest areas to eat. Other times we got to go to restaurants, such as McDonald's, Wendy's or Shoney's. At some point during every trip we would listen to country music radio stations and poke fun at the song titles and lyrics.
Once we arrived on the island, one of the first things we would do, even before heading to the pool or the beach, was to go to Piggly Wiggly, or another local grocery store, with our Grandma Dee to pick out one or more boxes of sugared cereal. My parents were are geniuses, as since we only went to HHI once a year, and they preferred we eat little-to-no sugared cereal, we were only allowed to have it when we were there. So Meg and I couldn't wait to get some Apple Jacks, Fruit Loops and/or Cookie Crisp!
There are so many other things like that, which have almost nothing to do with HHI itself, and everything to do with things that my parents and grandparents did to make our experiences on vacation special. When Grandma Dee would make us PB & J sandwiches for lunch, rather than cutting it in half, squares or even triangles… She would cut them in strips! It was such a simple thing, but Meg and I LOVED it! I would always eat the two outer strips first, saving the inner gooey ones for last. I also recall how much I appreciated when my Grandma Dee would cut me up a fresh Georgia peach and give it to me in bowl. It smelled so good and tasted delicious!
Some mornings we even got to bring our sugared cereal to a near by swimming pool to eat. Grandma Dee didn't swim, but she loved to watch us. Meg and I would dive for golf balls in the deep end. Then sometimes, when the adults weren't around, we would take the lounge chairs off the deck and put them in the pool. We knew we were being "bad," as this was something we'd been told many times not to do. But it was so much fun, to play on and swim through them in the pool. And who/what was our game really hurting, anyway?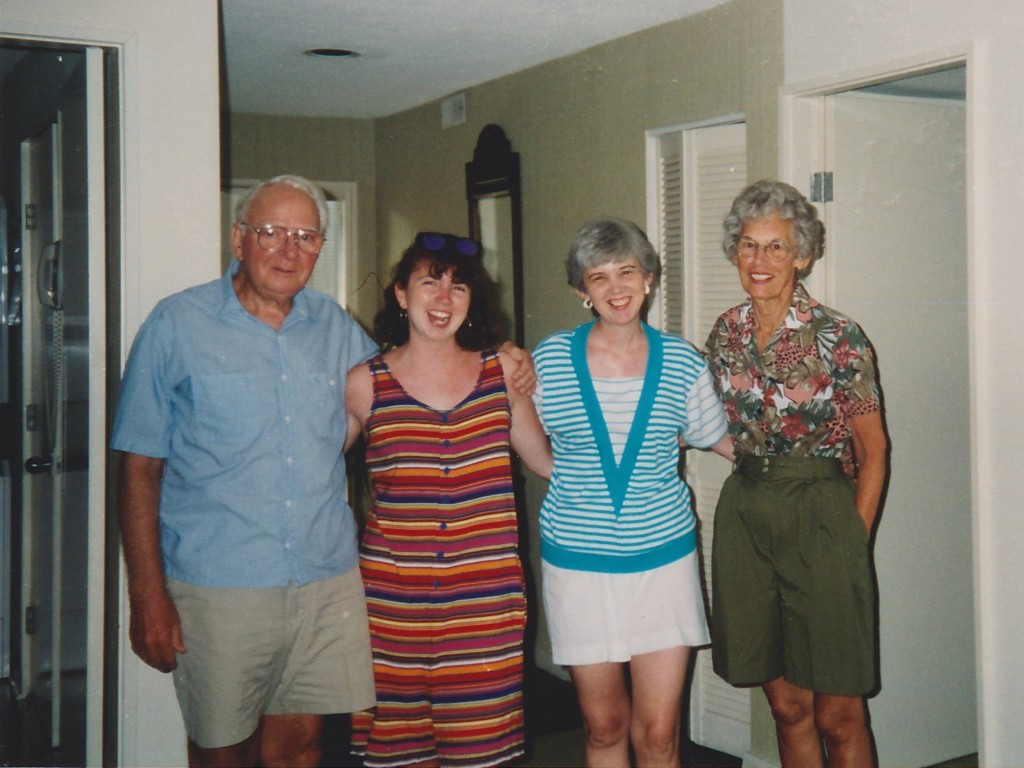 When we were younger, our parents would usually play golf a few times while we were on HHI, while my Grandma Dee would watch us. Back them my older sister and I couldn't fathom why anyone would choose to spend a hot day hitting a ball with a club, when they could be building sand castles at the beach or riding waves in the ocean. But as we got older and learned to love a game that so many in our Axe/Beisler family play, we began to understand.
Since our Grandpa Jack and Great Uncle Bill worked part-time as rangers at golf courses on HHI, we had the great privilege of playing for free when we visited! Yeah, how awesome is that? Not to mention the fact that Grandpa Jack worked at Harbor Town Golf Course, home of the PGA Heritage Golf Tournament. So we got play there many times without being charged. One of my favorite memories is having just finished playing the 17th hole with my dad, mom and Meg. It had started raining and we saw lightening.
My mom, being very practical and concerned about safety, who was sharing a golf cart with Meg, decided to head for the clubhouse. My dad and I, determined to finish our round and not miss getting to play the 18th and signature hole on the course (the one that leads up to the lighthouse), kept on going. We got soaking wet and probably tempted fate more than we should have, but we got it done and had so much fun!
There are so many more snapshots and flashbacks that cross my mind when I allow myself to go there. It is bittersweet since Grandpa Jack has been gone for 16 years now and Grandma Dee for 14. They are both buried at Six Oaks Cemetery there and I look forward to visiting their graves, along with my Grandma Dee's sister/my Great Aunt Mary June's and her husband/Grandpa Jack's Best Friend/my Great Uncle Bill's graves. We still have family there, including a cousin who became a golf pro years ago. So once again we will be lucky to get to play some beautiful courses in ways that most visitors to the Island don't get to.
Now my parents and other family members who live on HHI, or will be visiting too, will be watching my sister and my children, so we can play golf with our husbands! I can't wait to eat at some of our favorite restaurants, especially the Old Oyster Factory (I can almost taste their hush puppies), the Salty Dog Cafe and others. I am excited to ride the waves on rafts with our kids and ride bikes on the beach and around the Island.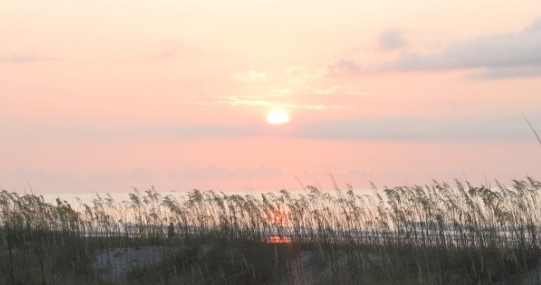 I look forward to getting up early one morning with Sean, and anyone else who might choose to join us, to see the sunrise, a tradition my Grandma Dee and I maintained one morning every summer that I can remember, when we visited. It's still hard for me to imagine returning to one of my favorite places in the world, without two of my favorites people being there. But I believe they will be with us, as always, in spirit… My Grandpa Jack walking 3 miles on the beach everyday, with a thick layer of zinc oxide protecting his nose from getting sun burnt. My Grandma Dee having contests with Meg and me to see who can fall asleep first, after telling us "department store stories" and singing Jesus Loves Me before bedtime.
After my Grandma and Grandpa Beisler died, we stopped going back every year. My parents sold the villa they lived in to family members who lived there for a while and then eventually sold it to someone else. But we try to get there every few years now. We weren't supposed to be able to go in June 2008 for an extended family reunion and celebration of life for my Great Aunt Mary June and Uncle Bill (who'd died not long before), as Molly was due on June 28th. One of the silver linings of her passing, was getting to be in a place that is so meaningful for me, with loved ones who I adore, as we were beginning to heal and make peace with the death of our baby girl.
In 2011, less than a month before we moved into our new home, here in Chicago, we returned to HHI. This time we got to stay in Grandma Dee and Grandpa Jack's old home, which is a rental. It was so awesome to live there again for a week and remember so many wonderful times spent with loved ones.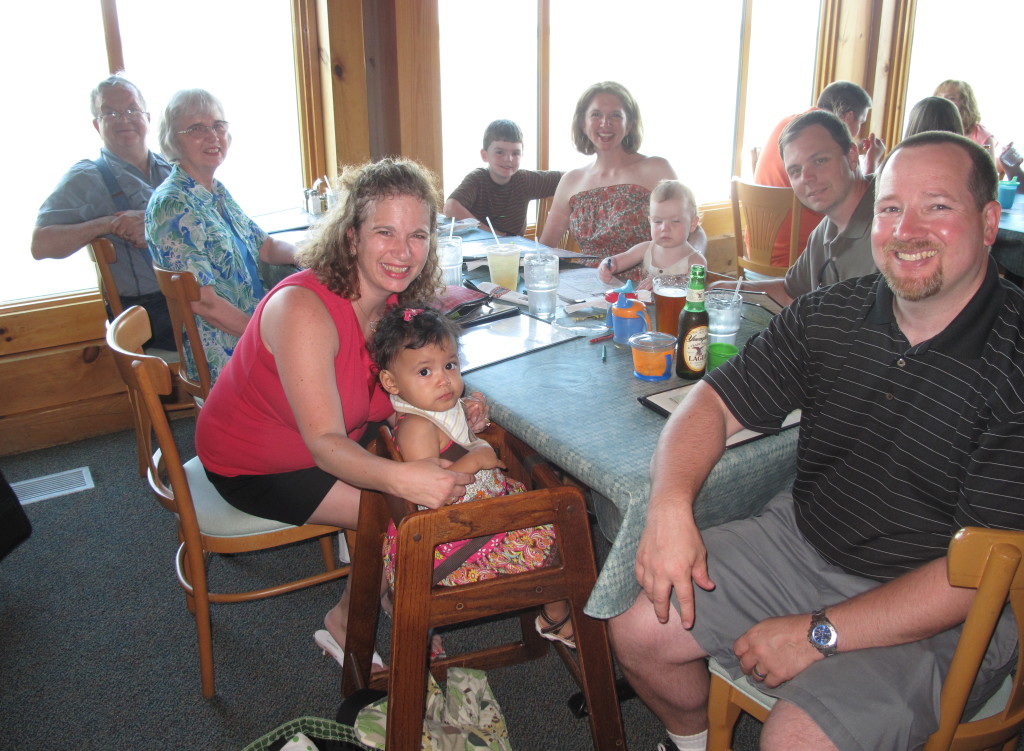 Next week we will stay there again. We'll have meals with my parents, my sister and her family, Bob and the kids around a table in a dining room that we been eating at for over three decades. It won't be the same. I am sure we will shed some tears as we remember what it felt like to be there with Dee and Jack, Mary June and Bill, and our extended family. However, I know we will also laugh a lot and have so much fun making new memories with the next generation of Beisler descendents on that beautiful Island in South Carolina, shaped like a shoe.
Hilton Head's calling me home…