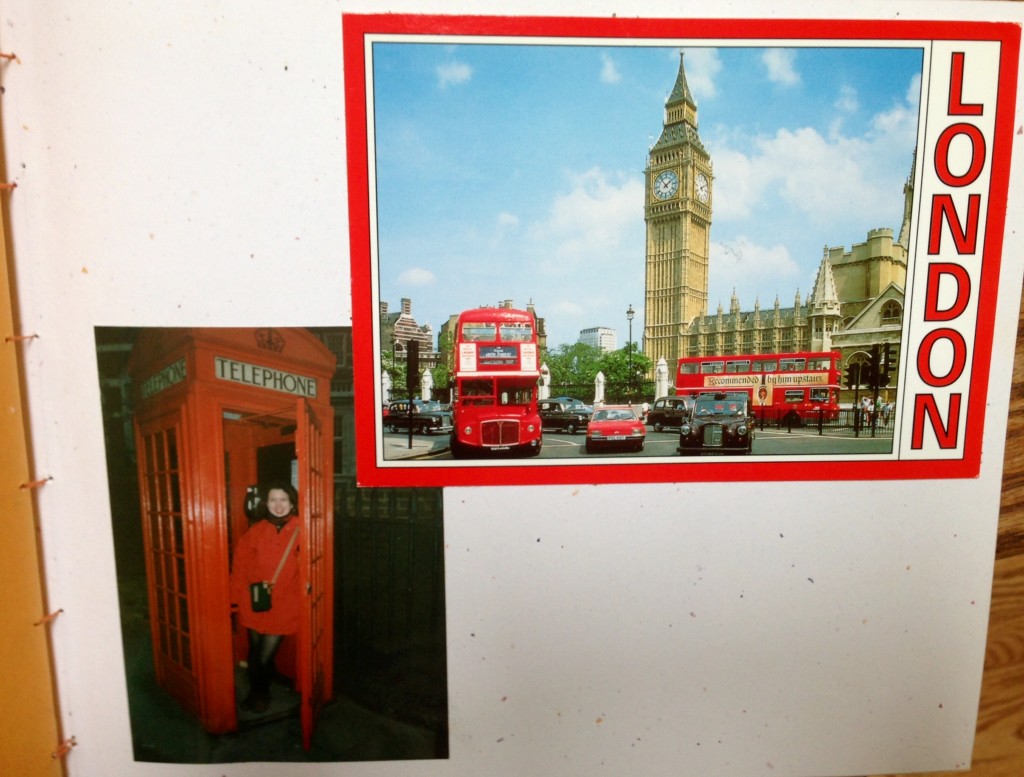 I lived there the spring semester of my junior year in college, in this house.
It was 1996 and an awesome time to be "across the pond."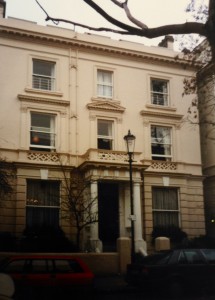 Everyone who lived at 21 Pembridge Gardens, which was run by the Butler University Study Abroad program, in partnership with the University of Illinois (where I was student), was American. And though there were a number of my fellow U of I classmates also spending the semester in London, I had only met one of them before, we'd actually known each other back in grade school, and so it was a new and exciting experience for me.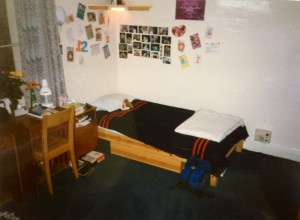 My roommate was from Kansas State University, studying fashion/shoe design. We had our moments sharing space, though neither of us had brought much from home. But we grew to get along splendidly and by the time we headed back to the States in May, she'd asked me to be a bridesmaid in her wedding that summer.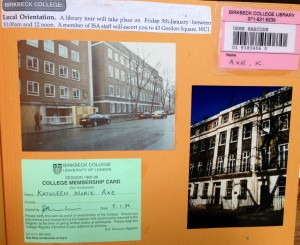 I was determined to immerse myself in the culture of London, as international of a city as it is (not unlike Chicago, where I 'd grown up just north of). I wanted to meet and hang out with "locals." Since even my classes at Birkbeck College, a division of the University of London, were with only Americans, though they were taught by British professors, I had to work hard to connect with Londoners.
I joined the "Canoe Polo Club," an intramural sports activity sponsored by the University of London (Student) Union (a.k.a. "ULU"). The "canoes" were actually what I knew to be kayaks and we played a version of Water Polo while paddling around in a large swimming pool! It was challenging and a lot of fun. After our once weekly practice and games, we would go out for drinks at a pub in the Student Union.  There was a deejay that would play a lot of fun songs, which we'd often sing a long to.  "Your So Vain" by Carly Simon was usually on the set list and to this day, when I hear it, I am transported back to those nights drinking pints of beer and getting to know my new British friends.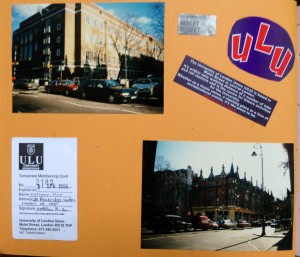 I even got to attend an event called The Purples Ball with my fellow Canoe Polo Club members, which was a really fun evening of getting dressed up, eating dinner and dancing together. I was encouraged by my teammates to take one of the cloth napkins from our dinner table and have everyone sign it, as a souvenir. I did and it is among some of my favorite mementos from my experience across the pond.
Another way I tried to get involved and meet Londoners was by joining the University of London's Newman Center for Catholic Students. Though there are so many beautiful churches I could have attended regularly while living there, I chose to find a place where I would feel more at home and knew that was a common mission of Newman Centers on college campuses. I was welcomed by the priest that served there and many other international students who were also living and studying in London.
I have so many incredible memories from that semester, from the classes I took, especially Classical Architecture of London, which involved weekly field trips to see the actual monuments we were learning about, to navigating the city via the tube and bus system. I loved going to the museums and taking day and weekend trips with friends to places like Stonehenge, Stratford Upon Avon, Wales, Ireland and Scotland.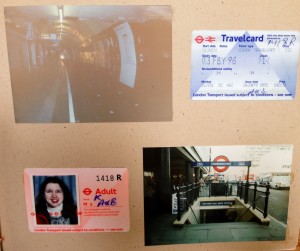 The movie "Trainspotting" was released while I lived there. It scared the crap out of me and ensured I would never try heroine. The movie's soundtrack became an instant favorite of my friends and mine, while we lived there and will forever call London to my mind when I hear any of the sounds, including "Perfect Day" by Lou Reed and "Lust for Life" by Iggy Pop.
I had the opportunity a few times, while in the UK, to reconnect with some of those I'd worked with at Camp Algonquin during the summer of 1995. It was a residential camp in Algonquin, IL that employed international students, many from England and Australia. They got visas to come over and work for one or more summers and then were able to travel the States some after the camp season had ended. They were the ones who inspired me to study aboard at the last-minute, going into the Fall semester of my junior year at U of I.
Prior to meeting them, being a tourist in Europe didn't really appeal to me. My older sister had traveled via Eurorail after she graduated college and had an awesome time. But I didn't see myself enjoying that for some reason. Then we I saw what these people were doing, getting to live with Americans and experience their real lives, not just pass through and take pictures next to monuments and other attractions, I was intrigued.
Unfortunately, it was too late for me to participate in a traditional exchange program, where I could have lived in a small town somewhere, with a native family and attended classes with local college students. But I was determined and found the Butler University/Birkbeck College in London program and convinced my parents to allow me to apply.
I think a lot of my loved ones were surprised by my enthusiasm and determination to go to London to live and study. But they were all very supportive, even when I told them I couldn't afford to get them Christmas gifts that December 1995 and instead gave them each a copy of "The Dance of the Starfish," on nice paper, letting them know what a difference they'd made in my life and how much I appreciated them.
I always imagined I would get back there sooner. When I left, I even had a thing for a camp friend, who I'd gotten to spend time with while I was there. He led me to believe he was going to come back to the States and we might be together. Maybe he meant it or maybe not. But when he drove me to the airport, on the day I was flying back across the pond, I didn't think it would be the last time we'd ever see each other in person.
My friend and I exchanged a few letters and that was the end of it. It took me a little while to get over him, or at least the idea of him, and how it might keep me forever connected to London and the UK, which at the time (and still does), hold a special place in my heart and my memories. But I know now that it is a good thing that our long distance relationship did not work out, as it allowed me to be single and ready to be with someone else, when I met my now husband Bob, later that year, on the Tuesday after Labor Day Weekend, at the beginning of our senior year at U of I.
So why am I day dreaming about London and recounting some of my memories and experience now?
Last week my husband let me know there was a chance he might get to go to London, where his firm has an office, for a business trip later this month. He knew how excited I would be at the possibility of joining him and wanted me to know, it was unlikely, not out of the question. I tried to keep from getting my hopes up too much, but didn't do a very good job.
We considered all the possibilities… Asking family and/or friends to watch our kids, so we could go together for 5 – 7 days, extending his 3-4 day business trip, "to make it worth our while." In the end, as it seemed like the trip might be more plausible, we started to make tentative plans, including taking our son out of school for a few days (something I am in theory adamantly against), though we never told Sean or Abby about what we were considering, as we had decided to bring them.
I even went as far as to schedule an appointment for later this week, so the kids and I could apply for last-minute passports, as mine had long expired. I was researching short-term international cell phone and data plans, the plug converters we'd need to buy and outings I planned to take Sean and Abby on, while Bob was working, including to the Harry Potter movie set, for our resident super fan (who has read every book, seen every movie and even been Harry for Halloween).
All along I knew it might, probably wouldn't happen, but it was so fun to allow myself to dream and imagine what it would be like to go back there, to a place that is so nostalgic for me and I have romanticized in my memory for almost 20 years now. Then I got the call today. Bob wanted to let me know they'd decided another one of his colleagues will make the trip. Knowing more about the project the meetings will be centered around, it makes sense to him for that person to go and not him.
I get it too, but am disappointed.
Of course it would have been crazy to try to pull off a trip like this on such short notice, but I welcomed the challenge and couldn't wait to surprise Sean and Abby with the news! I am such a planner and control freak (much of the time) and wanted the chance to do something like this on the fly.
Oh, well…
I know that Bob and I will got there together someday and will likely bring our kids. This has been on our family vacation wish list for the future for a long time and will have to remain there for a while longer.
I've so enjoyed this past week having London on my mind again and revisiting some of my old stomping grounds on Google maps.
I look forward to the day when I will get to show my husband and children "my London" and for them to get a taste of why it means so much to me.
Have you ever been to London and/or other parts of England?
If so, what was your experience like?
Do you hope to return?
If not, do you want to go there someday?
Why or why not?