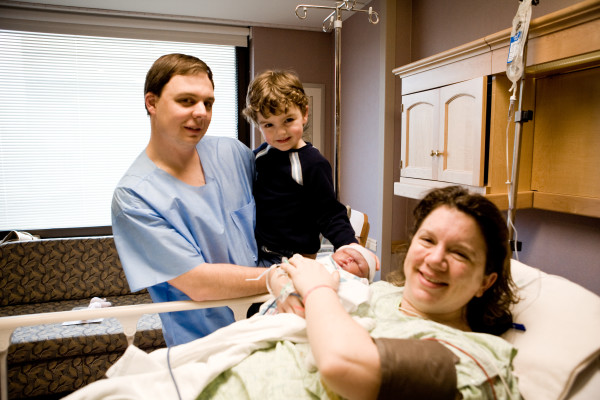 This is the only picture that exists of our family on the day Molly was born and died.
I have had mixed feelings about it for years.
It means so much to me to have a photo of the four of us together. I love the expression on Sean's face and how sweetly Bob is holding our son. I also love that we are all touching Molly.
However, I have never liked (to put it mildly) how I look in it.
My face and body were swollen. I weighed the most I ever have in my life that day, and had been retaining water for weeks, due to something called mirror syndrome (as my doctors explained it). Molly had edema (also known as fetal hydrops) all over her body and thus also looked very swollen.
Of course at the time and to this day, I believe our baby girl was beautiful, just the way she was.
That said, it has always been hard for me to appreciate this picture, the way I have wanted to be able to.
One time, not long after Molly's birth and death, in 2008, a loved one was visiting our home. I had this picture in a small frame on a dresser in Sean's room, so he could remember the day he got to meet and hold his baby sister. Our loved one commented how much Molly and I looked alike in it. I know in my head and my heart she meant well, but I struggled to take it as the compliment that I believe she intended it to be.
Recently I was discussing this with a close friend. I don't recall exactly how or why it came up. But somehow I found myself telling her about some of my regrets from the day Molly was born. Those regrets include that we only have this one family picture and how I don't find it very flattering of me. I haven't displayed it in our home for years, though we have it in photo albums.
A few days after our initial conversation, my friend and I were together again. Somehow the topic came up and my friend told me she had been thinking about the picture, especially what I told her I see, when I look at it.
My friend went on to share that she doesn't see our family picture the same way I do.
She assured me that she understands where I am coming from, not loving how I look in the photo. But then went on to explain that, through her eyes, she sees a woman and mother who went through so much physically and emotionally to get our baby girl to her birthday. My friend talked about what a gift she believes it is, that I did what I needed to do to be able to carry Molly to almost 30 weeks gestation. She told me she thinks it allowed our baby girl to be born into loving arms and for our family to get to spend precious time with her on that special day, when she was born, died, and we believe she also went to Heaven.
Then my friend reiterated,
"So, that's not what I see when I look at that picture and I hope it's not what you see."
Thank you so very much, my dear friend.
Because of you, I am able to see this picture from a new and wonderful perspective.