I am excited to share about my second Collective Bias® Social Fabric® shop! I had such a fun and interesting experience with my first one and appreciate the feedback I received on that post. This time I had the opportunity to shop for clothing for my kids from Cookie's Kids website.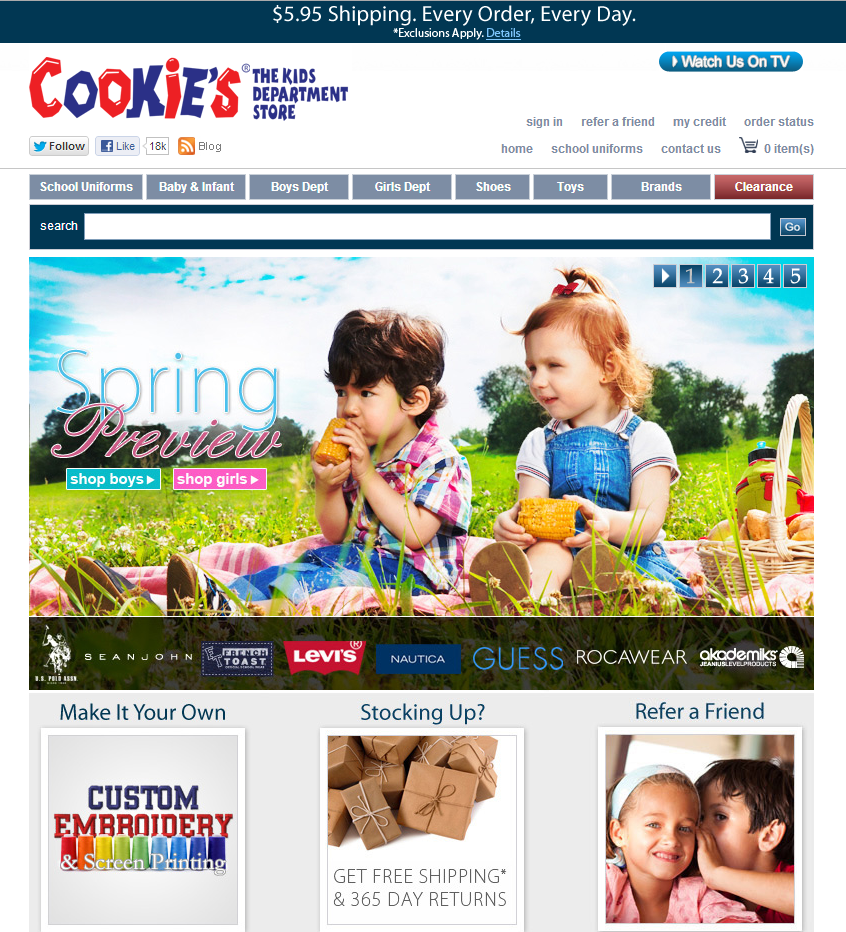 There is a six-year age difference between our living children, nine-year old Sean and three-year old Abby. Having dealt with secondary infertility and loss for five years, I waited a long time to have the chance to get to dress Sean and Abby in coordinating clothes. Yeah, I am that kind of mom. If they had been the same gender I would have been all about matching them from time to time and buying complimentary outfits as much as possible. Likewise, even though it is more difficult to dress my son and daughter in matching outfits, I really enjoy when I can find coordinating clothing for them to wear.
So I was happy to have the chance to browse Cookie's Kids user-friendly website and pick out some spring clothes for my children. I had never been to their website before and I was impressed with their selection of affordable clothing for kids, including everything from girls dresses and boys suits (which was fun to check out with Easter on the horizon) to school uniforms.
After spending some time checking out the wide range of clothing, styles and brands available on the Cookie's Kids website, I then began to narrow my search to decide what to purchase. I started by looking for a nice casual outfit for Sean that he could wear this spring or summer. I wanted something that would be comfortable, but also fashionable and that would keep him cool on warm weather days. I chose to begin with Sean because the selection of boys clothes at most stores and on most websites is not as extensive as that which can usually be found in the same stores and on the same websites for girls.
I clicked on the links for Boys Dept. Sizes 8-20 and then chose the category "sets." I liked the idea of an affordable top and bottom set for Sean that could look cute and compliment a dress that I might find for Abby. I quickly came across polo and plaid short sets made by the U.S. Polo Association and loved the style. I debated which color combination I preferred and ultimately narrowed it down to two.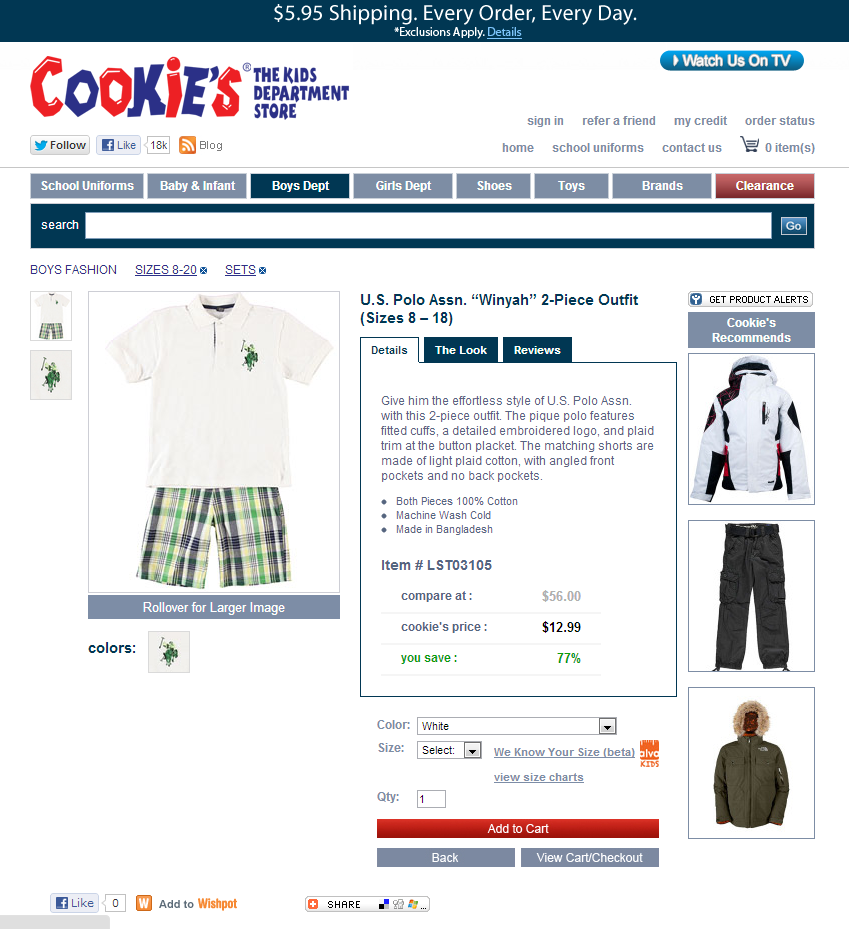 Option 1 for Sean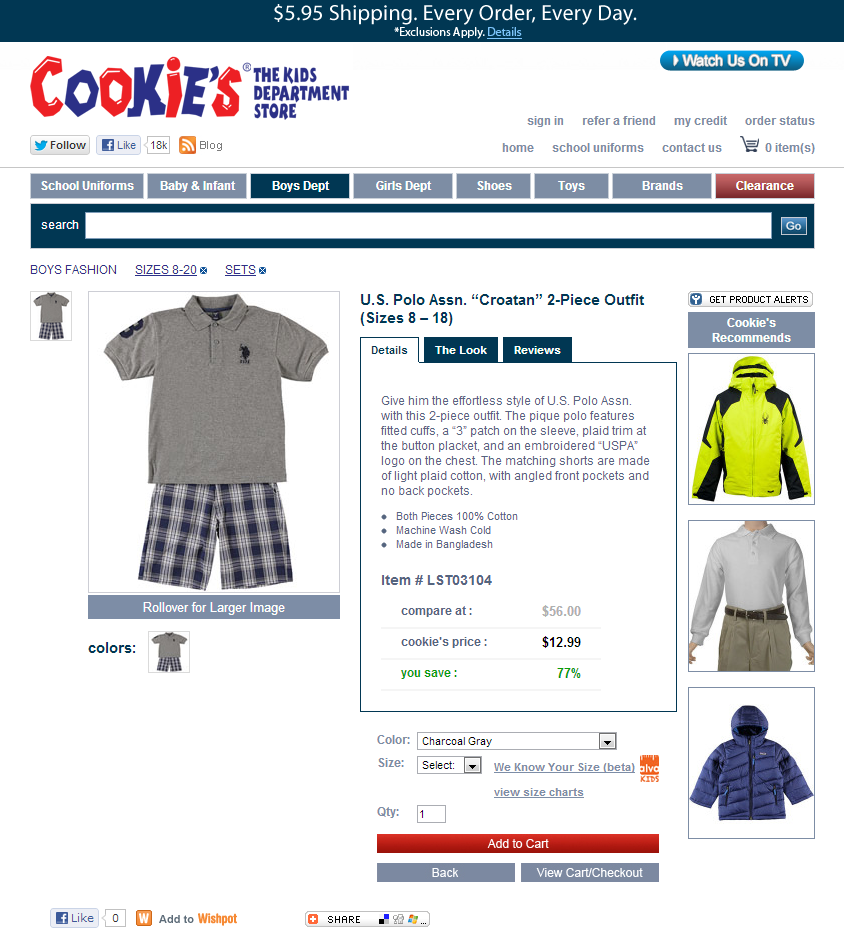 Option 2 for Sean
Then I decided to check out the Girls Dept. Sizes 2T-4T and chose the category "dresses." I figured I would take a look at the Cookie's Kids dresses that might look pretty on Abby and then narrow my favorites down to two options, as I did for Sean. Because I had already identified my top two options for Sean, I kept them in mind as I shopped for Abby. Ultimately I found two adorable dresses for Abby and made sure that each one complimented at least one of the polo and shorts sets that I had picked out for Sean.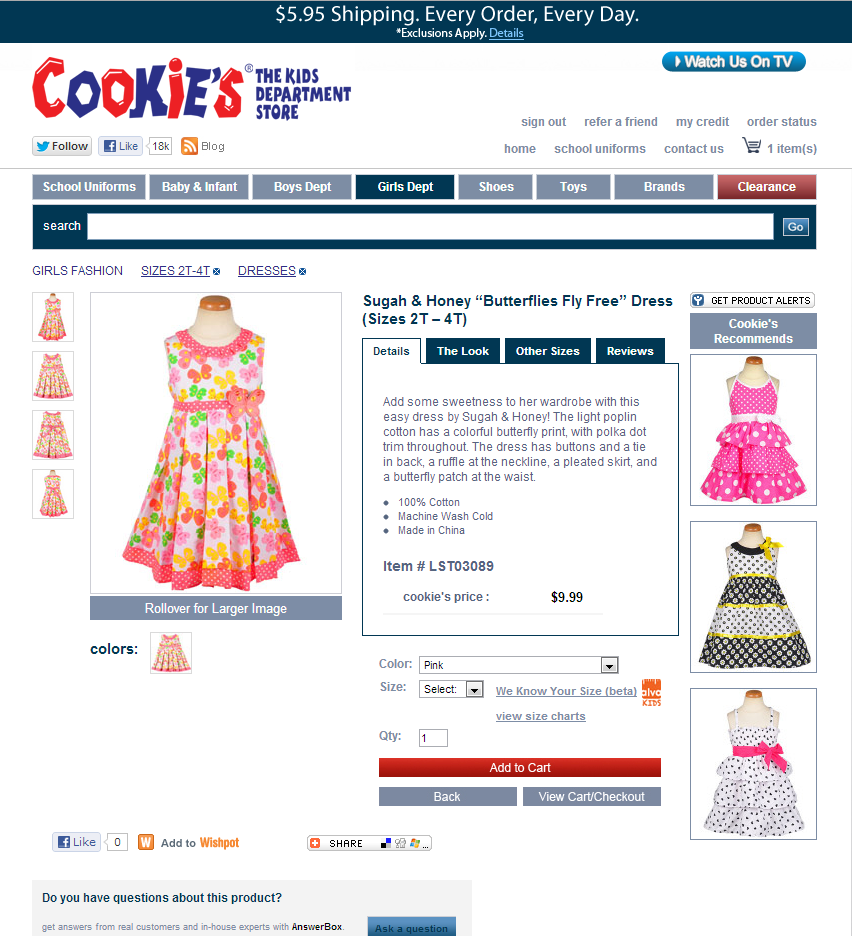 Option 1 for Abby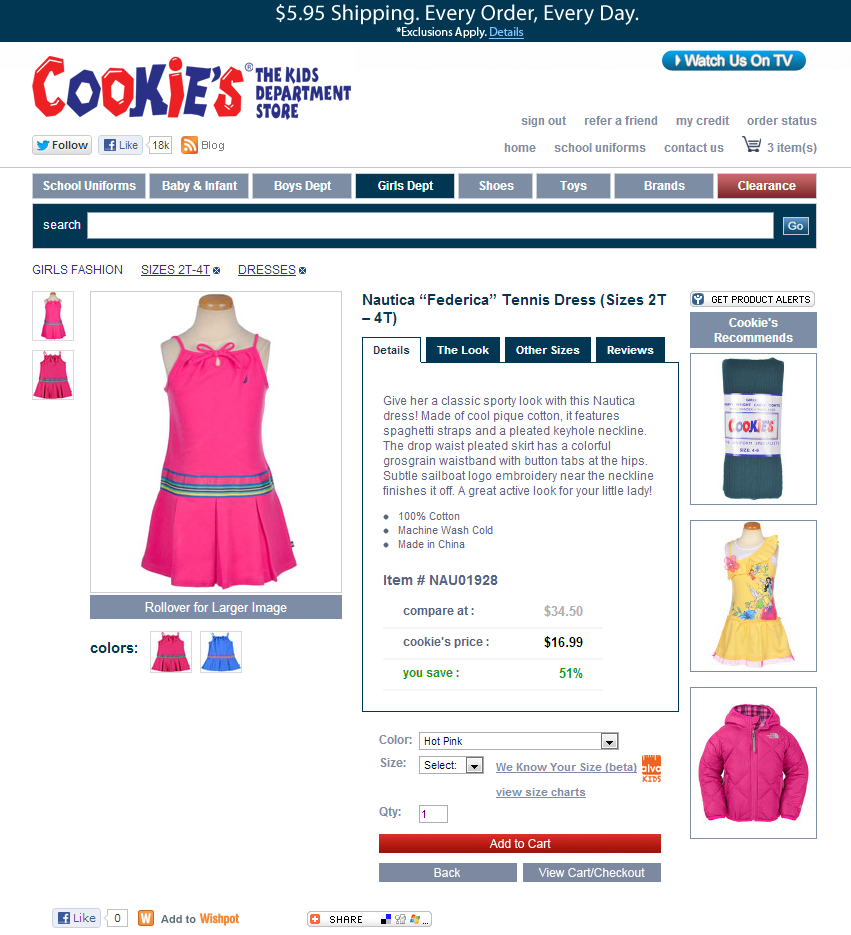 Option 2 for Abby
From there I went back and forth on which set for Sean and dress for Abby I would buy. I loved both combinations and came close to buying all four. But in the end I tried to think practically and remembered that my son has a tendency to be a messy eater and also plays hard, so his clothing gets dirty fairly easily, even when he is dressed up. Thus I went with the set for Sean that had darker colors (grays and blues) instead of the light-colored ones (which had shades of white and green). Likewise part of why I chose the dress that I did for Abby is that it looked more comfortable for her to wear. The older my children get the more I try to take into consideration how things will look on and feel for them before I buy.
My family takes an annual Father's Day trip (though never on the actual holiday, in effort to avoid the bigger crowds which gather then) to a Chicago area racetrack and I enjoy every year picking outfits for Sean and Abby to wear that are casual, but nicer than everyday play clothes. I used what I would dress them in for that outing as a final barometer to help me make the call as to which dress and set to get for them.

Once I made up my mind, I placed the order and was excited to receive our package in the mail to surprise Sean and Abby with. Though originally I thought it would be fun to have them shop with me on the Cookie's Kids website, I couldn't find a good time to sit down with both of them to get the order placed as soon as I needed to. So this way they weren't expecting our special delivery and they really enjoy receiving unexpected gifts in the mail. Who doesn't?!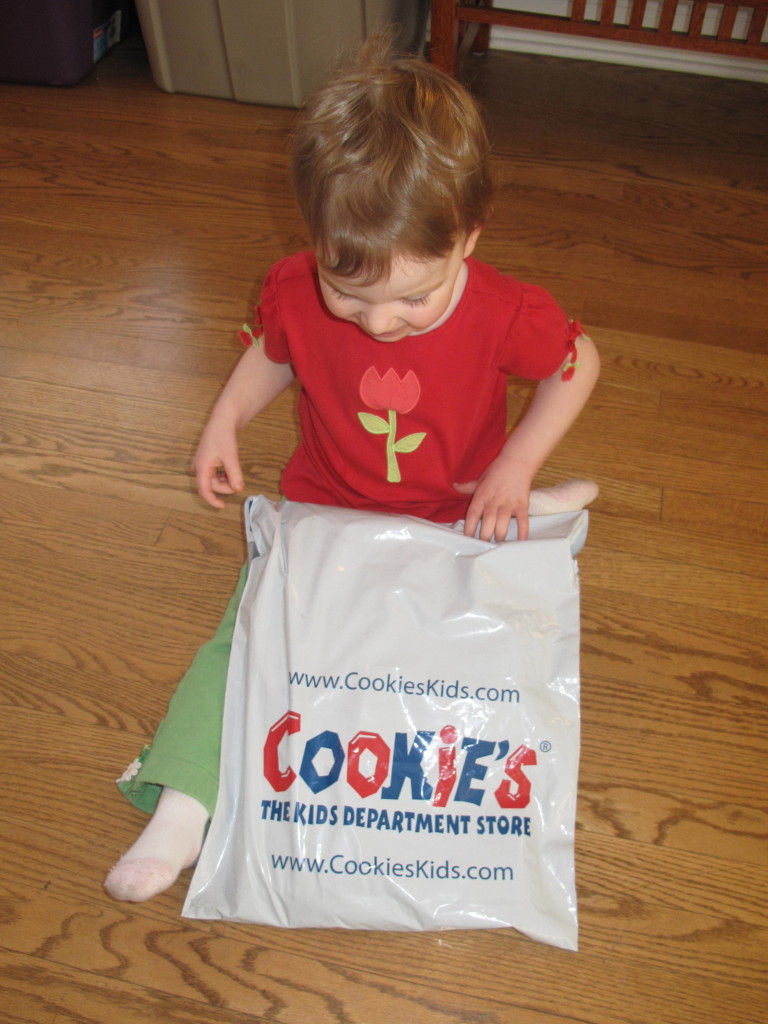 After our package from Cookie's Kids arrived, I gave it to Sean and Abby to check out and open. They both seemed to enjoy the anticipation of seeing what I picked out for them and were pleased to see what was inside of the package. Abby couldn't wait to try on her new dress and Sean also wanted to see how his new outfit looked and felt.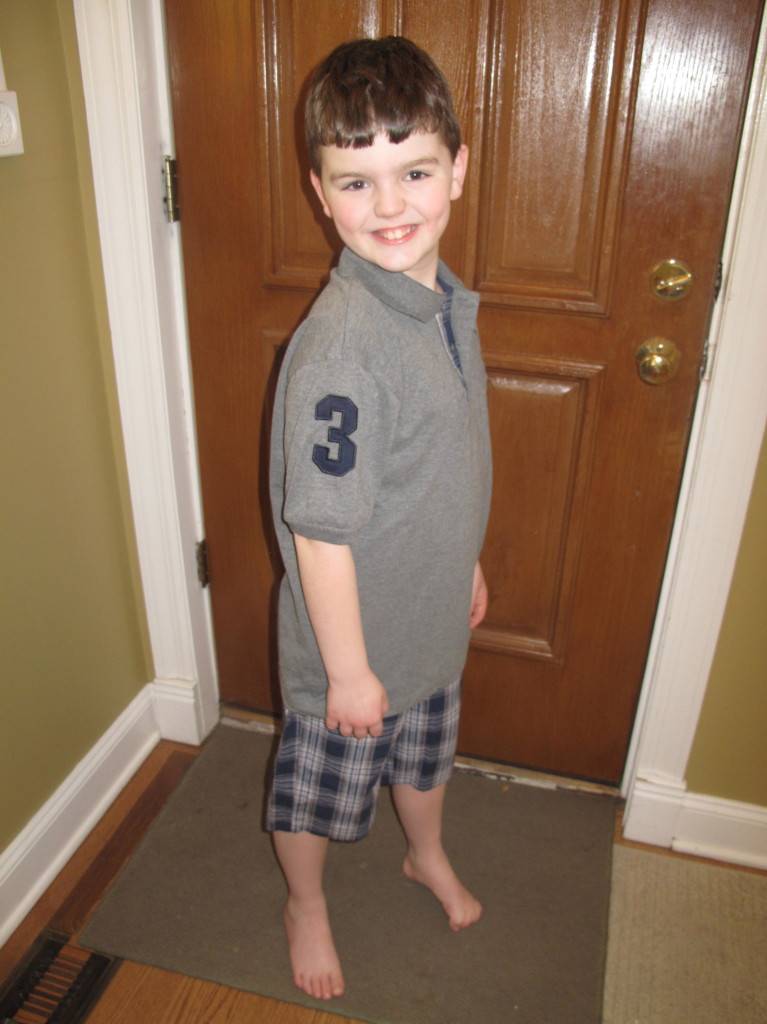 I purposely ordered a size up for Sean and Abby, in spite of the recommendations by Alva Kids (such a cool feature on Cookie's Kids website), because they both seem to be transitioning out of their current size and since I was ordering their clothes to be worn in the Spring and Summer, I wanted them to have room to grow. Thus, Sean's outfit is a bit large on him, but still looks super cute and Abby's actually fits pretty well, which she also looks adorable in.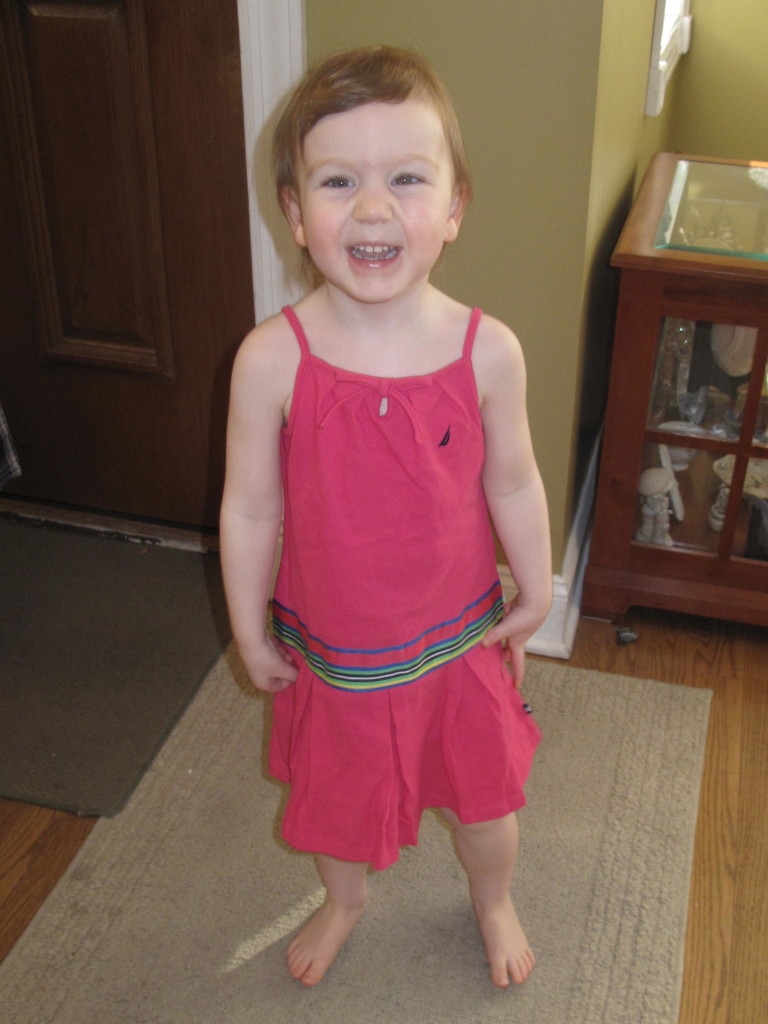 Now for the moment I had been waiting for, getting to see our children together wearing the complimentary outfits which I had picked out for them! They looked as cute together as I hoped and imagined they would.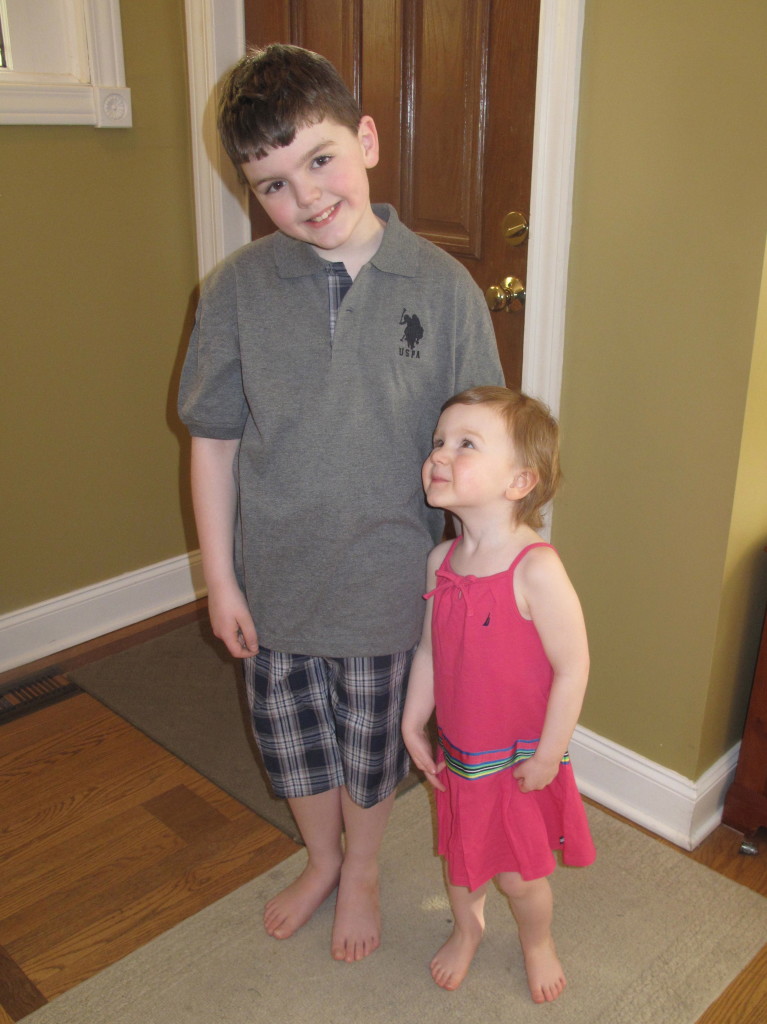 I am grateful that this shop introduced me to a new website where I can shop for cute and affordable clothes for my children. I was impressed with my Cookie's Kids shopping experience from my first click on their site all the way through to receiving the package with my order at our door and getting to see my kids sporting their new spring styles.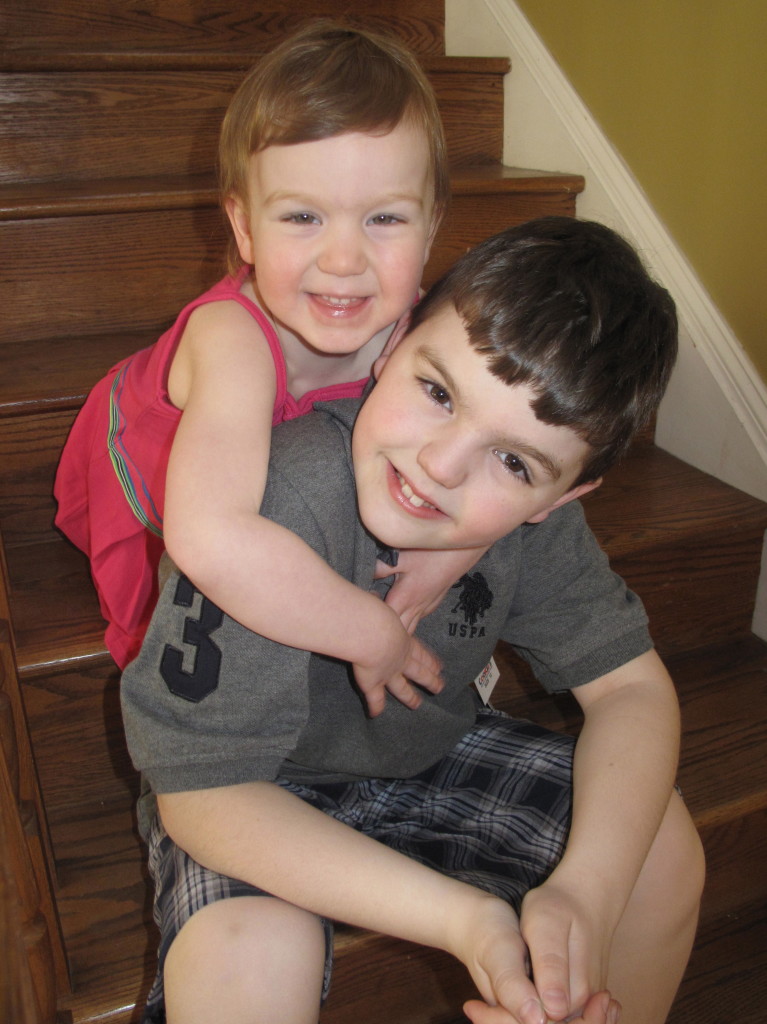 For those who live in the NYC area, Cookie's Kids currently has seven stores there, including ones in the Bronx and Brooklyn. They also have a store in Jamaica, as well their online site CookiesKids.com
Another thing I am finding that I really enjoy through my participation in Collective Bias®, Social Fabric® shops is learning some of about the background of the companies we work with. Apparently this year Cookie's Kids is celebrating its 40th Anniversary of being in business. According to Social Fabric®:
In 1972, a young man named Cookie and his brother Marvin went into business together. They rented a 1600 square foot store in Jamaica, Queens, fixed it up, bought inventory and Summer and Fall, and opened a day after Thanksgiving with a full stock of holiday toys. The toys were a success and they put the extra money toward buying children's clothing for the next season. When that did well, they bought more clothing. The business was on it's way.

As the brothers Cookie, Marvin and Sonny, who had come in as a third partner in the business, began to open new stores in new locations, inventory expanded. Besides the latest fashions, (their) customers wanted shoes, toys, backpacks and accessories and (they) were prepared to deliver.

By the late 1990's there were six superstores throughout the NYC area, and though they previously had different names, by that time they were all named Cookie's Kids. Also in the late '90s came an important addition to Cookie's Kids' inventory: school uniforms. It was the steady success in uniform sales that paved the way for founding CookiesKids.com in 2007, which originally sold uniforms and soon after the entire Cookie's Kids Inventory.
There is something about learning backstories, such as this one about Cookie's Kids, that helps me to build a stronger connection to a brand and impacts my loyalty to certain products and services.
Thank you for reading about my recent experience shopping for spring clothing at Cookie's Kids for my children. Many thanks to the Collective Bias®, Social Fabric® and Cookie's Kids for the opportunity to participate in this shop.
You can also check out my Google+ album sharing the story of my Cookie's Kids shoppertunity, including additional pictures.
~~~~~~~~~~~~~~~~
Disclaimer: I am a member of the Collective Bias® Social Fabric® Community. This content has been compensated as part of a social shopper insights study for Collective Bias™ and Cookie's Kids. However, the opinions expressed here are my own. #CBias #CookiesKids #SocialFabric