I recently was invited to join an online community of bloggers who enjoying shopping and sharing about our experiences. The community is called Social Fabric®, which is a division of Collective Bias®. One of the perks of being a part of Social Fabric® is the opportunity to apply for "shoppertunities." These are social shopper insight studies in which community members are compensated to go to a specified store, purchase products by a certain brand, use them in our homes/personal lives and then tell the story of our experience on our blogs and via Google+ albums. Though the focus of my blog is not to make money, I certain welcome opportunities like this now and then to be paid to do one of my favorite things — writing. As an amateur photographer, who loves to take pictures, I also like that these "shops" include sharing photos that help to tell the story of my experiences. With that said, I will share about my first Collective Bias® Social Fabric® shop.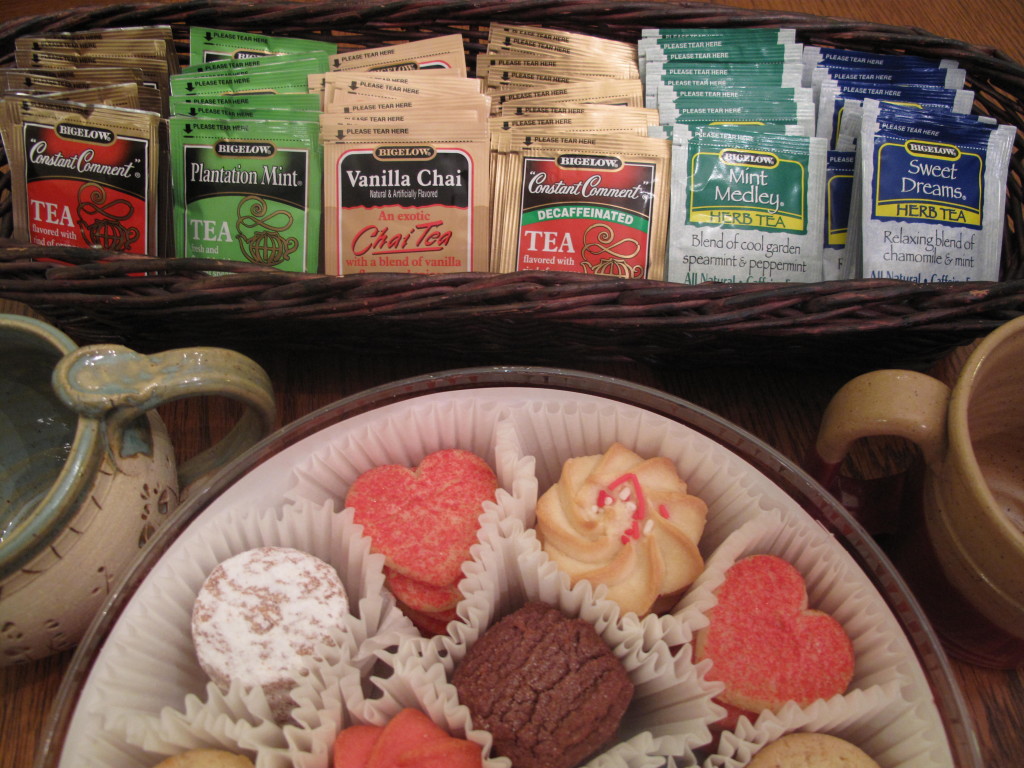 I love tea! I drink it regularly and like to try different kinds of tea. I enjoy getting together with family and friends to chat over tea. I find it very comforting and soothing to drink. Especially during the Winter season, there is nothing like feeling warm and cozy while being with a loved one and drinking tea together. When I first joined Social Fabric® and had the chance to take a look at some of the shoppertunities, one jumped out at me immediately. It was for Bigelow Tea, which happens to be my favorite kind! I couldn't believe how easy it might be for me to participate in a shop about a product which I already know and love. I also appreciated that the location I would be shopping at is a Walmart, because there is one located not far from where I live.
A good friend of mine introduced me to my all-time favorite tea, Bigelow's "Constant Comment," about five years ago. Though I vaguely recall my mom also enjoyed drinking it over the years in our home, as seeing the box at my friend's house was nostalgic. After my friend served it too me one afternoon while we were visiting and drinking tea together at her home, I fell in love. I went out later that week and bought a box and ever since I always have at least one box of the decaf and one of the regular version stocked in my pantry. Now and then I try different flavors, but I always come back to Constant Comment (which is so aptly named). I even carry packets in my purse for when I am out to eat and the restaurant doesn't carry it. I often will request that they get some to serve there in the future.
So clearly this shop was not a stretch for me, other than the possibility of me breaking out of my comfort zone to buy and try some of Bigelow's other tea flavor varieties. During the application process for this shop, I was asked to share what I might do with the tea I bought if I was selected to participate. This is what I said and I later found out was one of the reasons they chose me:
I would like to buy some Bigelow Tea at Walmart for this shoppertunity and invite some of my friends, who are fellow bereaved mothers (one of the topics I blog about is life and parenting after the loss of a child), over to spend time together and enjoy some comfort food, including Bigelow tea.
Apparently I am the first bereaved mom to openly share that part of my identity when applying for a Bigelow Tea shop and they welcomed the chance to invite me to share part of my story in conjunction with writing about my shop. As my regular readers know, I wear my heart on my sleeve and part of how I am able to make peace with the death of our second child, our daughter Molly, who died soon after she was born, is to reach out to other bereaved families who have lost a baby or child of any age and try to help them on their journeys through grief and loss.
This April will be the fifth anniversary of Molly's birth and death. I am proud of all the ways that Molly and her legacy lives on in the hearts of all those who she touched with her short life, especially our living children, our nine-year old son and three-year old daughter. One of the things I am most grateful to Molly for are the relationships that I have made with fellow bereaved mothers, through a support group that I attend at the hospital where she was born and died and in our neighborhood, where we have small community (that sadly seems to expand a bit each year) of women who have lost children.
From time to time I will get together with these women in my neighborhood and we will share about our children that left this world too soon, what we are learning through our loss and where we are in our grief and healing. I remember the first time that I was invited to a fellow bereaved mother's home for a gathering. We sat around enjoying some comfort food and conversation, as well as coffee and tea. I have never been a coffee drinker, so I welcome the choice of tea whenever I am visiting with a friend and want a warm drink.
There is something so comforting about being with people who "get" what it feels like to be living without one of your babies here on Earth. Nothing prepares us to bury one of our children and as much as other loved ones care and mean well, no one truly can understand who hasn't been in our shoes.
So I kept my past experience, enjoying these kinds of heartwarming moments with friends, in mind as I made my way to our local Walmart with my daughter for this shop. I thought it was interesting to see how the various brands and types of tea were arranged and displayed. I was overwhelmed (in a good way) with the selection and choices there. Notice the Bigelow Tea on the left, in the third and fourth shelves from the top.
Being a big fan of Bigelow's signature Constant Comment tea, I often don't pay much attention to the other options on the shelf. So it was a good chance for me to check out the other flavors that Bigelow and the other brands of tea offer. I like that Bigelow has a nice balance of regular and decaffeinated tea, including herbal, chai and green tea varieties.
I also think it is cool that Bigelow has a number of seasonal tea flavors. As part of this shop I had the opportunity to learn more about the history of the Bigelow Tea brand, including that over the years they have created over 100 different kinds of tea. I was also fascinated to find out that they are a family owned company, with the current President being the third generation of Bigelows to oversee their business.
Another thing I found out through this Bigelow Tea shop is that Bigelow's website has an extensive recipe section that shares creative ways you can cook and bake with their tea. Who knew? Now I do and will be trying out some of the recipes from their test kitchen soon.
After browsing all of the tea available at our local Walmart, I chose to get six different varieties of Bigelow Tea (including three regular and three decaf). These are the six varieties which I picked out, including my favorite Constant Comment (in regular and decaf), Vanilla Chai, Mint Medly, Plantation Mint and Sweet Dreams.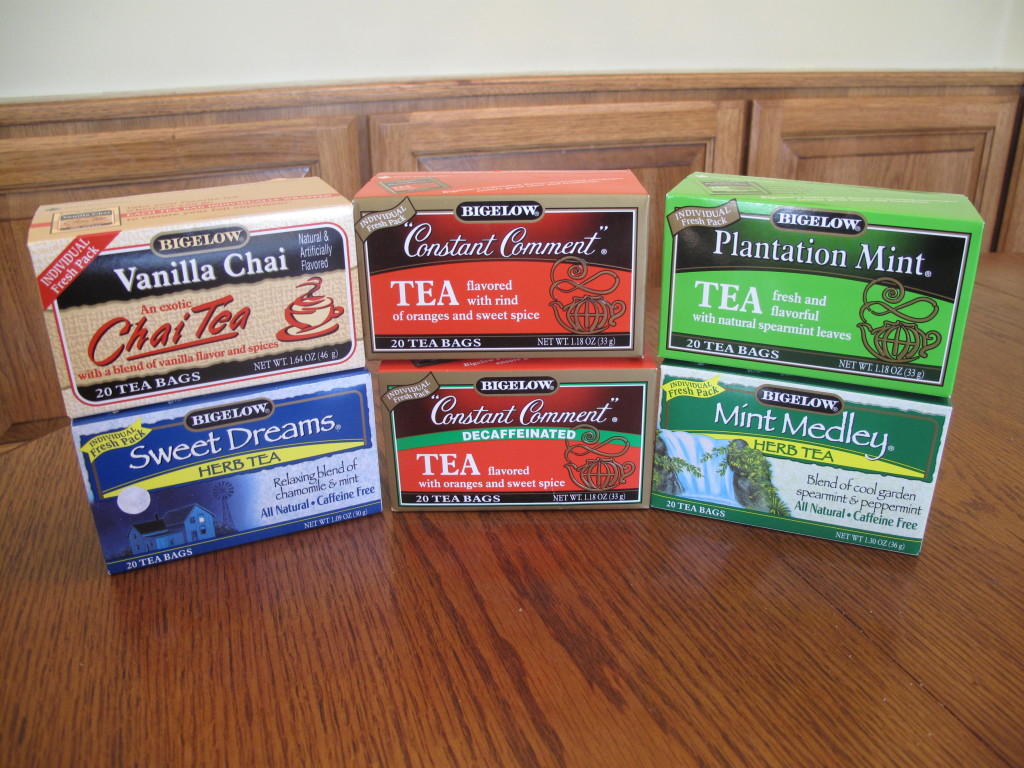 I don't typically go to Walmart to shop for groceries and was happily surprised by their selection. In addition to the Bigelow Tea we came for, my daughter and I ended up buying our groceries for the week there. While were at Walmart that day, I also bought a container of Valentine's Day themed sugar cookies to serve with the tea when loved ones visit our home in the days to come. I love the combination of a tea and cookies for a special treat on a cold winter's day.
I found a wicker basket in our home and thought it would be perfect to display the Bigelow Tea that we bought. Now when our friends and family visit it will be easy for them to see what flavors of tea they have to choose from. I put the three caffeinated Bigelow Tea varieties that I got on the left side of the basket. I put the three caffeine free Bigelow Tea varieties that I got on the left side of the basket.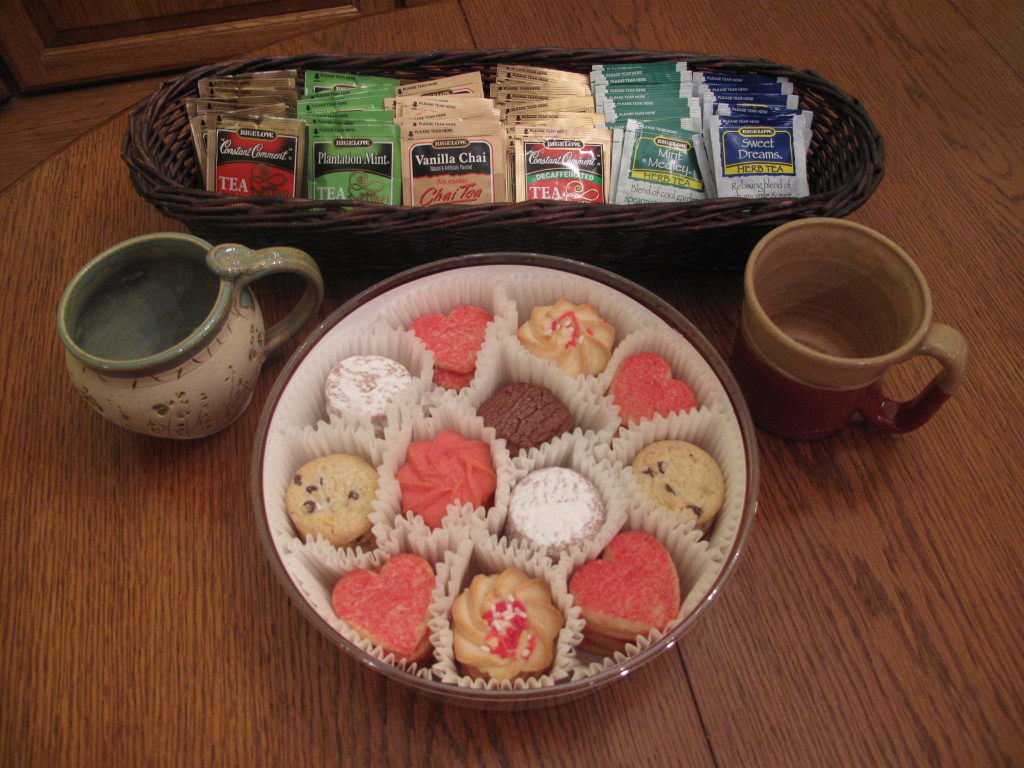 I grabbed two of my favorite mugs and was ready to host anyone who might stop by for a visit with our Bigelow Tea selection and cookies. Of course after shopping and preparing the Bigelow Tea and cookies for possible guests I was craving some tea for myself. So I heated some water in our teapot. Then I arranged our mugs and the cookies, as I would if a friend was coming over for a visit. But since we didn't have any guests joining us that evening, I got to enjoy both cups of Bigelow Tea (one decaf Constant Comment and one decaf Mint Medley) myself, as well as a few of the cookies.
Can't you just taste the Bigelow Constant Comment Tea and cookies pictured here? It makes me want to go make another cup right now…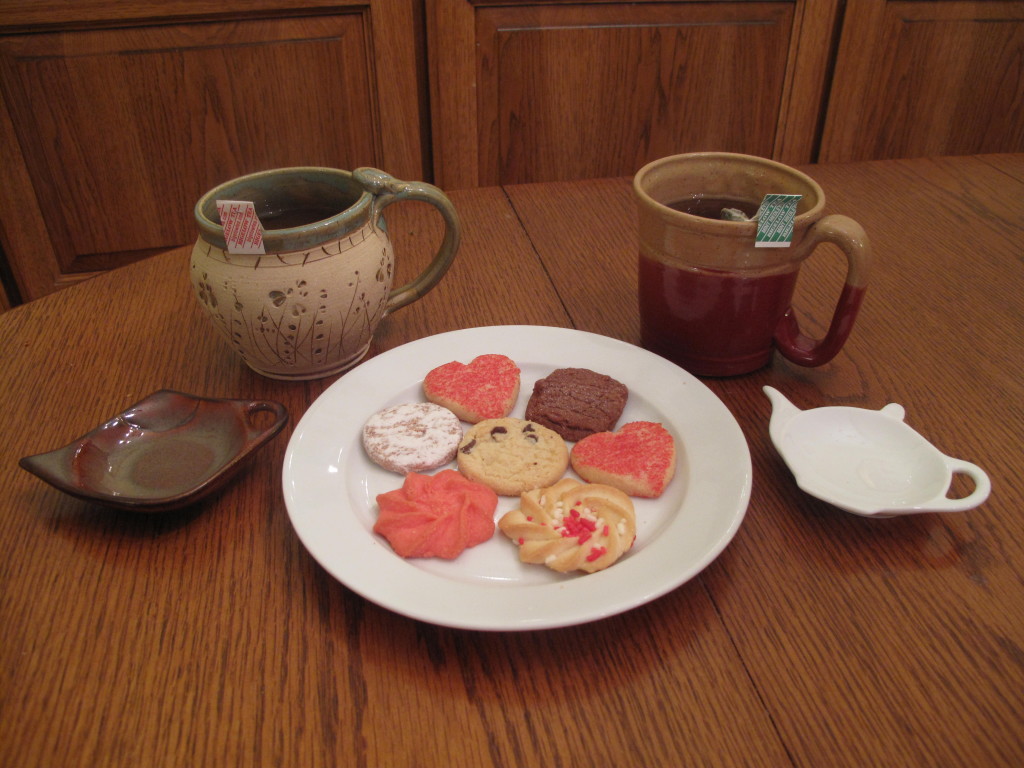 Since the day I bought the Bigelow Tea and arranged the individually wrapped foil packets in our wicker basket, I have been anxious to share the tea and cookies with friends. It was a very busy week for my family and me, so I didn't get the chance to have any of my friends who are fellow bereaved mothers over, as I had intended, since I got the tea and cookies. I look forward to doing so in the near future.
However, this past weekend I did host a meeting for some women who I am serving with, on a cooking team, for an upcoming women's retreat at our church. I was excited to offer them the tea and cookies and they were especially impressed with the selection of Bigelow Tea that I had to offer and how it was displayed in the basket.
The tea and cookies also added a calming and peaceful component to our gathering, as we were able to enjoy them as we discussed the details of the meal planning we were doing for the retreat weekend. When we discussed the beverages we would be serving I offered to bring my tea basket to share with the participants and team members making the retreat, as we all agreed it looked really nice and offers a good variety of options to choose from.
It was fun for me to notice which flavor each of the women at our meeting chose and to hear what they thought about them. One friend pointed out that she liked the combination of chamomile and mint in the Sweet Dreams tea she drank because the mint taste was not as strong as it is in some teas. I had yet try the Sweet Dreams yet or pay close enough attention to notice the ingredients, so after the meeting was over, I made myself another cup of tea, this time trying Sweet Dreams for myself and agree with my friend about the nice combination of flavors, which seem perfect to enjoy right before going to bed.
Thank you for reading about my recent experience shopping for Bigelow Tea at Walmart and enjoying it with friends in my home. There is nothing like a cup of tea to warm me up on a cold winter's day or night. I look forward to many more heartwarming moments over tea with loved ones in the days to come. Many thanks to the Collective Bias®, Social Fabric®, Walmart and Bigelow Tea for the opportunity to participate in this shop.
You can also check out my Google+ album sharing the story of my Bigelow Tea shoppertunity, including additional pictures.
~~~~~~~~~~~~~~~~
Disclaimer: I am a member of the Collective Bias® Social Fabric® Community. This shop has been compensated as part of a social shopper insights study for Collective Bias® and Bigelow Tea. However, the opinions expressed here are my own. #CBias #SocialFabric #AmericasTea