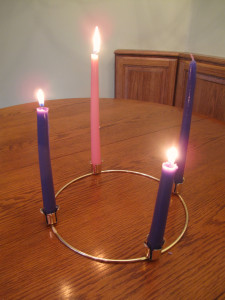 We almost didn't go to church this morning. It was the first Sunday in a while that Sean and I didn't have Religious Education before mass and with the rainy weather here in Chicago, it just sounded nice to stay home. But something was pulling me there.
I am so glad that Bob, Sean, Abby and I decided to go on this third, Gaudete, Sunday of Advent. One of our favorite priests, Fr. M, was saying mass and did a wonderful job of interweaving today's readings (which included my favorite passage from the Bible, Philippians 4:4-7) with trying to address what happened in Newtown, Connecticut on Friday. There were twenty-seven candles lit on the altar, one for each person who died.
Fr. M began his homily by talking about how he had started to prepare his sermon earlier in the week by reflecting on the readings. He shared that for some reason he felt called to revisit Robert Fulghum's famous essay from his book All I Really Needed to Know I Learned in Kindergarten. Then on Friday when he heard about the tragedy in Connecticut, Fulghum's essay and today's Gospel, took on a whole new meaning to him, especially knowing the young age of the majority of those who died on Friday at Sandy Hook Elementary School.
Fr. M focused on the beginning of Fulghum's first essay in his book:
All I really need to know I learned in kindergarten.
All I really need to know about how to live and what to do
and how to be I learned in kindergarten.:

Share everything.

Play fair.

Don't hit people.
Then Fr. M showed us how there was a common theme in this excerpt today's Gospel (Luke 3:10-18):
 The crowds asked John the Baptist,
"What should we do?"
He said to them in reply,
"Whoever has two cloaks
should share with the person who has none.
And whoever has food should do likewise."
Even tax collectors came to be baptized and they said to him,
"Teacher, what should we do?"
He answered them,
"Stop collecting more than what is prescribed."
Soldiers also asked him,
"And what is it that we should do?"
He told them,
"Do not practice extortion,
do not falsely accuse anyone,
and be satisfied with your wages."
Fr. M asked us to think and pray about the same question that John the Baptist was asked in today's Gospel, a question that so many Americans and other broken hearts around the world are asking, after finding out about the death of those twenty-seven children and adults in Newtown.
What Should We Do?
Fr. M encouraged us, during this Advent Season, to allow God to change our hearts, welcome Jesus and to go out and live the Gospel.
To share, play fair and don't hit.
I realize that in many ways trying to move forward after something like this may not seem that simple and it is not. However, I do appreciate the point that Fr. M was making and was moved to tears as he spoke today.
Later in the mass I served a Eucharistic Minister and felt a special connection to each of the people in our church community that I gave a host (the body of Christ) to. As we made eye contact, and I handed them the body of Christ, it was all I could do not to break down and cry, thinking about what the loved ones of those who died in Newtown are going through right now. As a bereaved mother, who watched our daughter Molly die in her father's arms four and half years ago, I have a sense of their pain and grief. But I also realize how different each person experiences loss and mourns the death of their loved ones.
I was especially touched by giving communion today to the school age children in our parish, including my own son Sean, who made his first communion earlier this year, when he was in second grade. I couldn't help but think about the first graders and other students from Sandy Hook as I watched children in our parish approach the altar and receive communion. It was so bittersweet to be both grateful for those younger people in our neighborhood who are still living and sad about those who died in the Newtown community.
We ended our mass today by singing one of my favorite church songs, We are Called by David Haas. I will leave you with the lyrics to this beautiful and inspiring song, on this Gaudete Sunday, as we mourn the loss of those twenty-seven people from Newtown, try not to take for granted our loved ones, especially our children, and look for joy and peace this holiday season.
We Are Called
Come! live in the light!
Shine with the joy and the love of the Lord!
We are called to be light for the kingdom,
to live in the freedom of the city of God!
Refrain: We are called to act with justice.
We are called to love tenderly.
We are called to serve one another, to walk humbly with God.
Come! Open your heart!
Show your mercy to all those in fear!
We are called to be hope for the hopeless,
so all hatred and blindness will be no more!
Sing! Sing a new song!
Sing of that great day when all will be one!
God will reign and we'll walk with each other as sisters and brothers united in love!