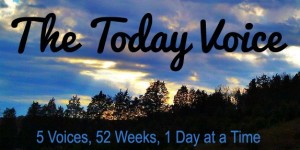 It has been an exciting week for my fellow writers and me at The Today Voice since we launched our new writing project on Monday.
The prompt for this week is:
If your life were a television show what kind of show would it be? Who are the characters?
I thought this was such an interesting question. Initially it wasn't easy for me to imagine a TV show about my life, but once I got going it was a fun, and even therapeutic, prompt for me to write about.
I am Thursday's Voice/today is my day and here is a link to my first post:
It have found it fascinating to read the different takes and perspectives of my fellow authors at The Today Voice on this week's prompt.
To check out the other Today Voice posts for this week click on the links below:
Tuesday's Voice: Brian B. Baker
Wednesday's Voice: Peter Combs
Friday's Voice: Amanda Kasper (post will be live at noon EST on Friday, July 6th)
I am excited and feel honored to be a The Today Voice author and hope you will follow our journey and share your thoughts on our posts "52 weeks, 5 voices, 1 day at a time."
If your life was a TV show, what would it be about? Who would your main characters be?
I would love to know!
Please share your thoughts in the comment section of my post on The Today Voice today, here on my blog or in a post on your own blog and then let me know/share a link so I can read it.